Pay-for-Print system in 3 steps
Add money to your FIT ID card

cash or credit/debit deposit

Set up your print on FIT sdtuent workstation in the classroom or open labs
Release your print at the Print Release Station

Use your FIT credentials to log in
Payment is charged at this time
Pick up your prints
In the open Computer Commons Labs (Feldman Center, CC15 and CC15A), and the Library, there is per-page charge for printing. Print release stations set up in these areas deduct payment from your online account. Black and white laser printing is $0.10, and color printing is $0.90 per page (same price for 8.5x11" and 11x17").
Adding Money to Your Printing Account
Students, staff, and faculty may add funds directly to their FIT ID cards.
Visitors may add funds to Library Guest card issued at the Research Services (Reference) desk.
There are 2 methods of adding money to your account for printing:
You can use the PHiL stations to add cash (see below for details).
Add money using debit/credit card online via the Campus Card eAccounts portal (see below for details).
Checking Your Account Balance and Recent Print Transactions:
You can check the balance at the PHiL station

Each time you swipe your ID card in the print release station you will see your balance in the lower left hand corner of the screen

This information is also available on the eAccounts online portal
Recent Printing Transactions can be checked on the eAccounts Portal or at the Print-Release-Stations in the "Account" section.
Cash Deposit using PHIL Station
The PHiL machine will accept $1, $5, $10 & $20 bills; Machine does not give change; Coins are not accepted.
There are 2 locations that have PHiL stations (Payment Headquarters in Location) for students, staff, faculty, and visitors to add cash funds to their online printing accounts.:
Library, Goodman Center, 5th floor lobby
CC15 Computer Commons, basement of the Feldman Ctr.
There is no money on your actual ID card - only in your online printing account, so if your card should be lost or stolen, you will not lose any funds. That means that unless someone has your ID card, username and password, they will be unable to charge printing to your account.
Deposit Online through eAccounts
The eAccounts portal services students,staff, faculty, and visitors. Students, staff, faculty, and visitors may access the eAccounts portal by following this link: eAccounts. Alternatively students, staff and faculty may access the Campus Card eAccounts portal by logging onto MyFIT > Web Resources Tab> "FIT Campus Card" link.
Step by step instructions can be found in this guide.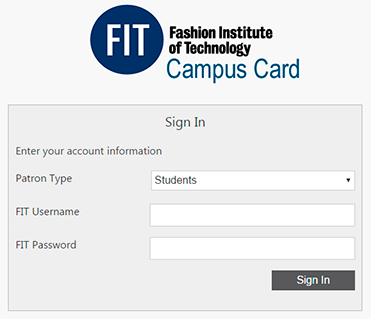 Guest Card users should press "Make a guest deposit" button at the bottom of the page.


Guest Card users instead of the individual's name provide the following credentials:

Enter "Library" for the first name
Enter "Card" for the last name
Enter the Guest Card number (written on the front of the card) in the "Student ID Number" field.

*FIT community members can use "Guest Deposit" option when Student, Faculty or Staff parts of the portal are unavailable. Required credentials to be provided in respective fields:

Your First Name
Your Last Name
Your FIT Student/Employee number; Skip "@" when entering "Student ID Number".
Printing Tips and Troubleshooting
Prepare carefully before printing because you will be charged for all print jobs. Here are few simple resource-saving techniques:
You have to be logged in to the FIT Lab computer with your FIT network credentials (first_lastname and password) for setting up and releasing the print at the Print Release station.

If you are working under someone else's log in, the print job will be queued to someome else's account for printing
There is no printing at FIT from personal devices (laptops, phones, etc.)

Save files to the computer -- desktop or documents folder -- DO NOT print from external storage, OR the web browser.
Use the print-preview before printing:

This will allow you to adjust margins, and scale your document
Print more than one page on a sheet. Note: they will come out much smaller
Select only the pages you wish to print, etc.

If you need to reprint a document, only print those pages that have been changed, instead of the entire document.
If your print job does not print immediately, do not send it to the printer again without checking the print release station because it may still be waiting in the print queue.
Remember to log out of your account before you leave the lab.
Canceling Print Jobs
A print job cannot be canceled. Print jobs are not released until after you have entered your network password at the print release station and selected which jobs you wish to release. Jobs that have not been released within 10 hours of being sent to the printer queue will be deleted from the printer queue.
Printer Malfunction
We make every effort to keep the printers in good working order; however, you may receive pages that are of poor quality due to low toner or other printer malfunctions. Please inform the technician/lab monitor on duty, who will either re-print for you at that time, or will help you to fill out and submit a Refund Request Form; refund will be credited to your account.
These printers are set-up for business quality printing and should be used for draft quality color printing. Any special printing and portfolio-quality printing can be done in PrintFX located in D529.
Printers are calibrated for specific type of paper, and under NO circumstances different paper or any other materials should be placed into the printers. These objects may jam and damage the printer's inner components.
Student Responsibility
It is your responsibility to guard your user ID and password. We will not reimburse you for any charges made to your account by another student. If you think another student is using your user ID and password, please contact the IT for FIT Help Desk.
Reviewed: 11/2021