Reportage: Theory and Practice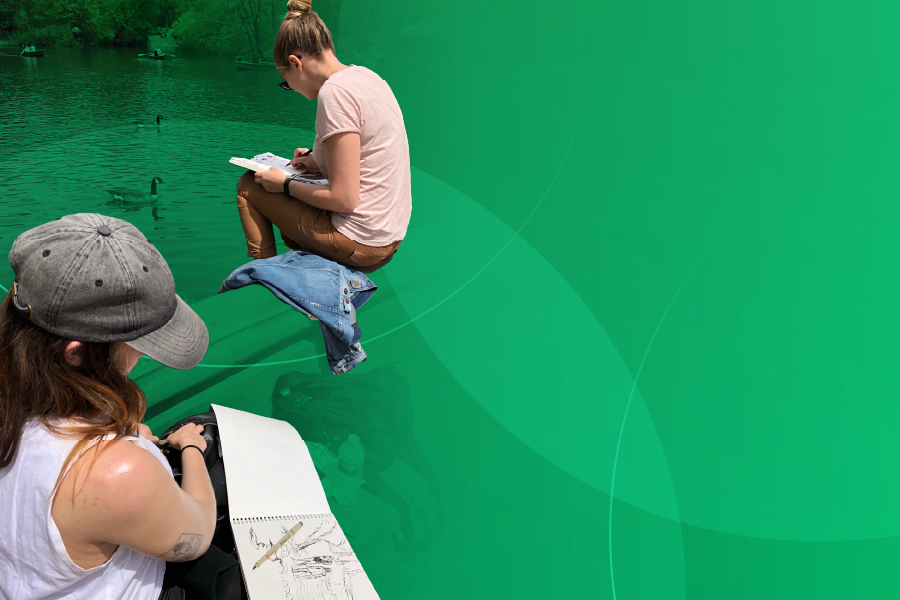 Beginning with the 2023 summer session, COVID-19 vaccine will no longer be mandated for students to attend FIT, but vaccination is strongly encouraged. For more details regarding the end of the COVID-19 vaccine mandate see the April 11, 2023, SUNY press release.
Dates
Winter Session: January 2–18, 2024
Winter registration begins November 2, 2023
Spring Semester: January 29–May 22, 2024
Spring registration begins November 20, 2023
MI 602
Reportage: Theory and Practice
4.0 credits (8 lab hours)
In state $1,924.00 Out of state $3,932.00
Enhances the ability to draw from life; to document people, environments, and events. Explores reportage theory, history and practice. Using location drawing sessions, students heighten their sense of observation and apply the practice of reportage drawing to illustration assignments. Prerequisite(s): MI 581.
This course is for illustrators who want to explore and elevate their observational drawing skills when drawing from life. Through location drawing sessions around NYC, participants enhance their ability to document people, environments, and events. The course also provides a contextual foundation in reportage history and theory. The prerequisite may be waived by permission from the department chair.
Note: Breaks will be given throughout the day including for lunch.
CRN
Section
Day
Time
Location
20351
501
F
10:00 AM–6:00 PM
TBA
17626
59A
S
10:00 AM–6:00 PM
TBA
Meet Your Instructor
Brendan Leach
The Friday section is taught by Professor Brendan Leach, an award-winning graphic novelist and comics artist. His books have been published by Top Shelf Comics, Secret Acres, Czap Books, Grindstone Comics, and Éditions Ça et La. His work has been recognized by the Society of Illustrators, The Xeric Foundation, The SPX Ignatz Awards, The MoccaFest Awards of Excellence, American Illustration, and 3x3 Magazine. He is currently serving as chair of the MFA in Illustration program.
John Jay Cabuay
The Saturday section is taught by Professor John Jay Cabuay, a New York City illustrator whose illustrations have graced the covers of newspapers, magazines, and book jackets worldwide. He has participated in numerous group exhibitions and works with many prestigious commercial clients. He received his MFA in Illustration from the Fashion Institute of Technology.
Graduate Credit Course Details
Nondegree students may take up to six credits in graduate classes that may be used in preparation for advanced study or for personal and/or professional development. Students who wish to take graduate-level classes as a nondegree student must submit an application for nondegree study and evidence of a baccalaureate degree. An unofficial copy of a college bachelor's degree transcript is acceptable. Some courses may require departmental approval to enroll.
PLEASE NOTE: Students who have taken classes as a non-degree student at FIT are not guaranteed admission to a graduate program. Nondegree students who wish to matriculate into a graduate program must submit a complete graduate application for degree study and go through the application process.
How to Register
We encourage you to submit your application at least two weeks before the semester begins. Enter the specific course code and CRN# to ensure you are signing up for the right course section. You will also fill out a nondegree application form and provide requested information and documentation.
Important Links
Contact Us
Marilyn Barton, Executive Education Office
[email protected] or (212) 217-4300
Monday through Friday, 9:30 am - 5:30 pm