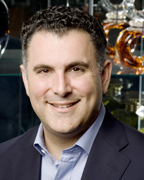 Stephan Kanlian, Chairperson, Cosmetics and Fragrance Marketing and Management MPS
There's an especially trusting relationship between faculty and students, because we're training them to be leaders. In doing that you have to peel away all the layers of the onion and get to the core of the person. Where there's trust, the growth can be exponential, and that's a joy. It's very exciting to see a student who is already successful at their company come in and travel on a growth trajectory so that they graduate much more confident and able to contribute in a completely different way than they did before.
One of our earliest success stories—in our first year—signaled to us how valuable and transformational the program could be. A very bright, very sophisticated young developmental chemist from the Chanel lab in New Jersey was "discovered" by upper management, and the company sponsored her to come into the program. Within one year of joining the program she had been promoted to product development manager at the company's headquarters in New York. To go from the New Jersey labs to those offices that overlook Central Park, and be ensconced in the Chanel corporate culture managing senior people and a world-class brand is a pretty dramatic transition. This young person was able to make that transition with tremendous success. It was then that we knew we had developed something that could be helpful to industry and also transformational in the lives of our students. And this has continued for ten years.