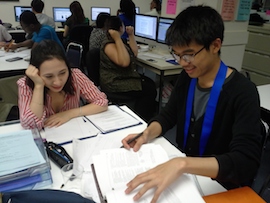 Akino Sakaoka
I have a BFA in Interior Design from FIT, an MS in Construction Management from New York University, a Baccalaureate Certificate in TESOL from Columbia University, and I completed the Japanese Teacher Training Program at the Japan Society.
I currently tutor students in AutoCAD, perspective drawing, drafting, rendering, architectural working drawings, and other interior design courses. I also tutor all levels of Japanese. I would like to teach at FIT some time in the future. I am always seeking out talented interior design students to work with me on freelance projects. I chose my profession in interior design because I like to express my creativity in 3D and to invent my own design styles.
My advice for current and future students is to study hard, manage your time, complete assignments on time, and think like a professional.
Christine Yeh
I received a BFA in computer animation from FIT in 2010. I currently tutor FIT students in computer graphics courses, 3D computer programs, and Mandarin Chinese. I was a graphic designer for 10 years. In 2008, I quit my job and came to FIT to study computer animation. I am working towards getting into the media industry.
My advice to FIT students is to aim high and be patient.
David Kim
I am currently a senior in my seventh semester as a Fashion Design major with a concentration in sportswear.
I was born in NYC but was raised in Detroit, Michigan and started to get interested in fashion during my junior year of high school. I am not from a fashionable family because my parents don't know how to dress and are not very creative. Well I think my mom is... She cooks well and always had people over because they were hungry.
Anyway, my family owned a dry cleaning business where my dad ironed clothes and mixed chemicals, and my mother was a tailor. She taught me the basics of sewing. Additionally, I have an older sister who is a hairstylist for Aveda. I became interested in fashion at the age of 16 because of my parents dry cleaning business and my sister's fashion sense.
I moved out of my parents house at the age of 18 to Lansing, Michigan where I attended Lansing Community College where I only took art courses and got lucky that they had a fashion design program. I had some amazing professors at Lansing who used to be the creative directors for Simply Vera, Kohls, a pattern- maker for John Galliano, and more. The professors entered me in the Detroit Fashion Week student show, and I got to show my first collection at the age of 19. I used photos from the show along with my artwork to apply to FIT.
I enjoy working with other creative individuals who have the drive to learn pattern-making, draping, computer flats and specs, and illustration.
"You have to love fashion, because fashion doesn't love you first"
David Neiditch
I have an MS in Chemical Engineering. My last job was with Johnson and Johnson, where I worked for 19 years. The last 14 years at J&J I was the Chief Process Engineer for Splenda, the world's best-selling non-nutritive sweetener. I received the Johnson Medal, J&J's highest award for innovation, for the work I did on the Splenda project.
I am now retired and besides tutoring math and science at FIT, I do metal sculpture and enjoy reading postmodern fiction.
My advice to students is to take full advantage of all the help available at FIT outside of the classroom.
Denise deGoumois
In my first life, I worked my way through the University of Wisconsin and the University of Connecticut with a manual typewriter to earn a BS degree specializing in journalism, advertising, and home economics. I continued my education at the Art Students League, CUNY Hunter College, and Baruch College; I now study at FIT.
I was initially a print-oriented writer, editor, graphic artist, and production coordinator. With the advent of computerized programs, I re-invented myself by majoring in typography/layout and digital graphics software. I created my first website circa 2000 and explored timeline animation shifting my focus to online technology. I am now exploring fluid, responsive web site creation that is mobile-device adaptive.
I love learning and sharing accumulated and man-made trivia from copy editing to power-user shortcut keys. I am fluid in and qualified to tutor: Flash/Action Script, AfterEffects, Corel Painter, Adobe Illustrator and Photoshop, and cutting-edge website development using HTML, CSS3, JavaScript, and Dreamweaver.
Gia Gao
Hello! I am currently in my 3rd year at FIT studying Advertising Design. For the past 2 years, I was in the Communication Design in the 2-year program, so I have learned a lot about the Adobe Programs such as Photoshop, InDesign, Illustrator and now After Effects, which are all the programs that I tutor at the Academic Skills Center. Also, because I was born in China, I am fluent in Chinese, so if anyone needs a Chinese tutor, I will be more than happy to help. I am the treasurer of the Asian Student Network Club at FIT, and on weekdays, I work at the International Programs Office as a graphic designer and clerical assistant. Outside of school, I am a member of a dance team in Flushing.
My advice to everyone is to worry about the "now", because once this moment has passed, you don't get a do-over. So really, just do it, do the things 20 year olds are supposed to be doing, because you only get to be 20 once.
Johnny Ng
I was born in Brooklyn. I have a background in 2D animation and cartooning and I graduated from FIT with an AAS in Communication Design and a Bachelor's in Computer Animation and Interactive Media. I'm currently working on a master's degree in computer art at the School of Visual Arts. My goal is to become a motion graphic artist using my style in cartooning.
The chairman at SVA said to every student in my major: work hard, be creative, and have fun. I believe every student should follow this advice because it will encourage you to study what you really enjoy doing on a daily basis. I also think you should not be afraid to try what you enjoy doing and should realize that you can always get help from professors, fellow students, tutors, and of course, family and friends.
Jonathan Mindell
I received a BA in English and Journalism and a minor in Art History from Syracuse University, took graduate classes in personality development at NYU in the MSW program, and received a Certificate in TESOL from Teachers College, Columbia. I worked as the Creative Director, SVP, N.W. at Ayer and D'Arcy Advertising and an editor for the Associated Press. I am a member of the Actor's Equity and SAG-AFTRA unions, and the author of two off-off Broadway plays. I was a creative consultant for the film documentary, Lion of Judah, Los Angeles Film Festival, 2012.
I currently tutor students at FIT in advertising and marketing courses, social sciences, art history, philosophy, and others. I have also been a tutor and assistant teacher for the Educational Opportunity Program and an accommodative aide for the FIT-ABLE program. I am a volunteer reader and Pencil Pal in NYC Public Schools. A favorite website is BritishMuseum.org.
My advice for FIT students is to work with a friend, counselor, or tutor to figure out how you learn best.
Kerianne Meehan
I graduated with honors from the Kings Park High School. I am currently in the AAS degree program at FIT majoring in Fashion Design, I have always had a love for the field, ever since I was a little girl playing fashion runway with my dolls. I tutor in draping, flat pattern, and sewing. Ultimately I'm striving to become a bridal designer. I have a love for magic and fairy tales and I feel there is no better way to be a part of all that than by helping each women become a princess the day their prince sweeps them off their feet.
Mildor Chevalier
Hello. I am a Haitian Fine Artist and Illustrator. In 1999, I went on to study painting and drawing at the Grotte des Arts Plastiques School in Port-au-Prince Haiti. One year later I moved to the Dominican Republic where I lived for ten years. There, I studied Communications at the Escuela Superior de Locucin in 2006 and received an AAS in Fine Arts at the Escuela de Diseo Altos de Chavn (Affiliated with Parsons the New School for Design) in 2010. I was awarded a scholarship to continue my studies at Parsons, where I received a BFA in Illustration and am currently doing my MFA in Illustration at FIT.
My works have been exhibited in different countries and cities around the world: Santo-Domingo-RD, Miami FL, New York City, Nimes, Chatou, Paris, France, Madrid, Spain, Montreal Canada, and in Beijing, Shanghai, Dalian y Guangzhou China.
Rafaela Topalian
I'm originally from Brazil and came to FIT to study Fashion Merchandising Management. While studying here, I fell in love with the major for Cosmetics and Fragrance Marketing, so I'll be starting that next semester (Fall,16). As of right now, I'm focusing a lot on my studies so I can achieve my big ambitions.
Robert Roth
In 1987 I helped start a magazine called And Then which is still in existence. In 2007, my book Health Proxy was published. Currently I am working on a number of different projects, including acting in a movie called "The Education of Thomas Jefferson." Over the years, I have been involved in various movements for social change. I have had very deep and rich friendships. I very much enjoy my contact with students and have learned a lot from working with them.
My advice to students is to hang in there. Take a deep breath. Don't be afraid to ask any questions.
Russell Jenkins
I received a BA in Economics from Rutgers University. I am currently awaiting state certification for a vocational school where applicants can receive job training in project management. While waiting for my certification, I am tutoring FIT students in economics, statistics, Microsoft Office (Word, Excel, PowerPoint), and mathematics.
My advice for students is to allow yourself to think of your course work (especially those classes which are required but not directly related to your major) as the "broader tapestry/medium" of which you have to work in. As a person coming from a non-fashion background, I am surprised by the creative way some fashion students approach the use of traditionally non-fashion type tools and subjects in pursuit of their projects and/or designs.
Yaxiong (Tommy) Huang
My name is Yaxiong (Tommy) Huang. I have a BS in Mathematics and Economics from the College of Staten Island. I also have an MA in Statistics and Applied Math from Hunter College. I tutor math courses at FIT.
My interests involve using math, statistics, and algorithms to solve IT/business problems. I plan to be an actuary analyst or data analyst in the near future. I chose my majors because they can be applied to business/science fields and used to solve real world problems. Those majors have trained me to acquire analytical and problem solving skills.
I am currently working as a researcher at an IT company. I mainly do research in catastrophic modelings (earthquake, hurricane, etc.) and develop risk management software for insurance companies. My work is the combination of math/statistics, insurance, information technology, and science. I also participate in an actuary exam program. I passed Exam P (probability) and I am currently studying for Exam FM (financial mathematics).
My advice to FIT students is to follow the proper method of study for each subject and to have a passion for studying in their majors. Remember, persistent effort can help you overcome any difficulty.
More to come...