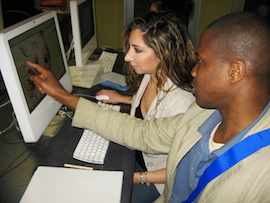 To attend a walk-in:
Go to the designated room during the scheduled time.
Write the course number, your name, and student ID number on the sign in sheet.
If the walk-in is busy, you may be limited to 20 minutes with a tutor; you may wait for the tutor to become available again.
Please keep in mind that the tutor is there to guide you and explain information you have questions about. It is not the tutor's job to make sure you finish your project/work on time or to teach you something you have not already gone over in class.
If you need more time with a tutor, make an individual appointment with them at fit.mywconline.com. During summer and winter sessions, appointments must be made at least 24 hours in advance. During the fall and spring semesters, appointments must be made at least 48 hours in advance. If canceling a session, you must cancel 24 hours in advance by emailing [email protected] or calling 212.217.4080. If you cancel within 24 hours, it will count as an absence. Students are allowed one absence per semester/session.
---
Fall 2019

Walk-In Schedule

DRAPING/SEWING/PATTERN-MAKING FOR FASHION DESIGN
Location: Feldman Center, Room C720
Days/Times:
Mondays through Saturdays from 12:00 - 3:00
Mondays through Thursdays from 5:00 -8:00

KNITTING LAB FOR FASHION DESIGN STUDENTS IN FD357 ONLY
Location: Feldman Center, Room CC41
Thursdays from 5:00 - 7:00
Sundays from 12:00 - 3:00

EMBROIDERY MACHINE FOR UPPER DIVISION FASHION DESIGN STUDENTS ONLY
Location: Feldman Center, Room C721
Saturdays from 12:00 - 2:00

STOLL SOFTWARE FOR FASHION DESIGN STUDENTS IN FD356 ONLY
Location: Feldman Center, Room CC15A
Sundays from 12:00 - 3:00

PATTERNMAKING FOR TECHNICAL DESIGN (PM121,PM122,TC311,TC312,MG114)
Location: Feldman Center, Room C610
Days/Times:
Tuesdays and Thursdays from 12:00 - 2:00
Location: David Dubinsky Student Center, Room A309
Days/Times: Tuesdays and Thursdays from 4:00 - 6:00

FASHION BUSINESS MANAGEMENT (FM224 and other FBM COURSES)
Location: David Dubinsky Student Center, Room A608B
Days/Times:
Mondays through Saturdays from 12:00 - 2:00
Mondays through Thursdays from 5:00 - 7:00

MATH/ECONOMICS/SCIENCE/ACCOUNTING
Location: David Dubinsky Student Center, Room A608B
Days/Times:
Mondays 11:00 - 2:00 Math, Economics, Accounting
Mondays 5:00 - 7:00 Math, Economics, Accounting
Tuesdays 11:00 - 2:00 Math, Economics, Accounting
Tuesdays 5:00 - 7:00 Math, Economics, Accounting
Wednesdays 11:00 - 2:00 Math, Economics
Wednesdays 5:00 - 7:00 Math, Economics
Thursdays 11:00 - 2:00 Math, Economics, Accounting
Thursdays 5:00 - 7:00 Math, Economics, Accounting
Fridays 11:00 - 2:00 Math, Economics,
Saturdays 11:00 - 2:00 Math, Economics, Accounting



MODERN LANGUAGES (French, Italian, Spanish)
Location: David Dubinsky Student Center - Room A608B
Days/Times:
Mondays through Thursdays 12:00 - 2:00 French, Italian, Spanish
Note: For tutoring in Chinese, Japanese and Arabic, or for additional help with French, Italian and Spanish, please schedule and individual appointment.



COMPUTER SOFTWARE PROGRAMS
Location: Feldman Building basement,Room CC15
Days/Times:
Mondays through Saturdays from 12:00 - 2:00
Mondays through Thursdays from 5:00 - 7:00
AND
Location: Goodman Center, Library, 6th floor
Days/Times:
Mondays through Thursdays from 12:00 - 2:00

Software: See the list below for software being tutored on specific days/times in CC15
or in Library 6th floor
---
Schedule subject to change:
This schedule will be updated the 3rd week of classes for the fall and spring semesters
For the Feldman Center, Room CC15, Computer Walk-ins
Days/Times:
Mondays 12:00 - 2:00: MS Office (MG153, MG306), Photoshop, Illustrator, In Design (12-1)
Mondays 5:00 - 7:00: MS Office (MG153, MG306 in A608B), Photoshop, Illustrator, Ned Graphics
Tuesdays 12:00 - 2:00: MS Office (MG153, MG306), Photoshop, Illustrator, In Design (12-1), Maya, Premiere
Tuesdays 5:00 - 7:00: MS Office (MG153, MG306 in A608B), Photoshop, Illustrator, In Design, After Effects, Maya, Premiere, HTML, CSS, Sketch, Adobe XD
Wednesdays 12:00 - 2:00: MS Office (MG153, MG306 in A608B), Photoshop, Illustrator, In Design(12-1), After Effects, Final Cut Pro,Flash, Dreamweaver (Interm.), 3D Studio Max (Interm.), HTML, CSS, Premeire
Wednesdays 5:00 - 7:00: MS Office (MG153 5-6, MG306 in A608B), Photoshop, Illustrator, In Design, After Effects, Final Cut Pro, 3D Studio Max (Interm.), HTML, CSS(12-1), Premiere
Thursdays 12:00 - 2:00: MS Office (MG153, MG306 in 6th floor Library or A608B), Photoshop, Illustrator, In Design, After Effects, Final Cut Pro(12-1), HTML(12-1), CSS(12-1), Premiere
Thursdays 5:00 - 7:00: MS Office, MG153, Photoshop, Illustrator, In Design, After Effects, Final Cut Pro, HTML, CSS, Premiere
Fridays 12:00 - 2:00: MS Office (MG153, MG306 in A608B), Photoshop, Illustrator, In Design, After Effects, Final Cut Pro(12-1), HTML, CSS, Premiere, Sketch, Adobe XD
Saturdays 12:00 - 2:00: MS Office (MG153, MG306 in A608B), Photoshop, Illustrator, In Design, After Effects, Flash


For Goodman Center Library, 6th Floor Computer Walk-ins
Days/Times:
Mondays - 12:00 -2:00: MS Office (MG153), Photoshop, Illustrator, In Design, Ned Graphics, Sketchup,HTML, CSS
Tuesdays - 12:00 - 2:00: MS Office (MG153), Photoshop, Illustrator, In Design, After Effects, HTML, CSS, Premiere, Sketch, Adobe XD
Wednesdays - 12:00 - 2:00: MS Office (MG153), Photoshop, Illustrator, In Design, Premiere, Sketchup (Basic), Rhino (Basic), Vectorworks
Thursdays - 12:00 -2:00: MS Office (MG153,MG306), Photoshop, Illustrator, In Design