University for the Creative Arts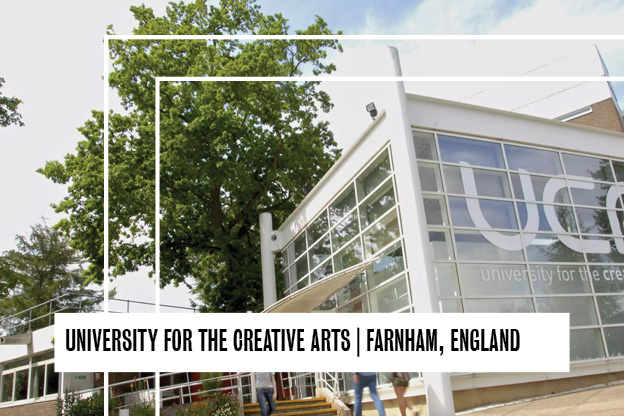 Program Type: Exchange
The University for the Creative Arts, Farnham (UCA, Farnham), located in the picturesque Surrey countryside, was formed through the Kent Institute and the Surrey Institute, both public multi-campus art & design institutes. UCA Farnham offers degree programs up to the doctorate level in 14 area subjects in every creative specialty ranging from architectural design to digital media and marketing to performing arts. Farnham is a step back in time, with its own 12th century castle, cobbled streets, and a Georgian marketplace with independent shops, art galleries and craft festivals.
---
15-Feb: Fall
---
Minimum GPA 3.0
Advertising Design students must apply online and submit a Web portfolio to Prof. Joseph Staluppi (D-319) with 12 pieces of recent work no later than

February 15th by 5:00pm

. Students must obtain academic advisement and approval of the department Chairperson/Advisor.
Advertising Design students are eligible during their 7th semester.
---
Advertising Design students take courses in the Advertising BA (Hons) Program at UCA Farnham.
UCA Farnham Advertising BA (Hons) Program
---
A detailed Academic Calendar can be viewed on the UCA Farnham website
---
Both on and off-campus is available to students attending Farnham University.
---
US citizens will enter as student visitors and will not require a Study Visa for the duration of their stay in England. All non-US citizens are encouraged to carefully review the Study Visa requirements. Supporting documentation will be provided after approval.
---
FIT requires all students to be covered in the U.S. and internationally for the duration of their study abroad program. Two types of coverage are required:
1. FIT requires students to be covered abroad for the duration of their program. This policy is mandatory, therefore students cannot waive it.
Coverage abroad: UHC Study Abroad Insurance
*Students will be enrolled and account will be billed before start of program. More detailed information about coverage and claims processes will be provided post-approval.
2. FIT requires students to be covered in the U.S. for the duration of their program. Students may waive the Haylor insurance using the standard waiver process if they already have a U.S. based insurance policy with equal or better coverage.
---
A copy of this form may be brought to Financial Aid Services so that a careful review of your program costs may be completed by an assigned financial aid counselor
---
See the Scholarships & Financial Aid page.
---
Application, Instructions and Preparations