Nottingham Trent University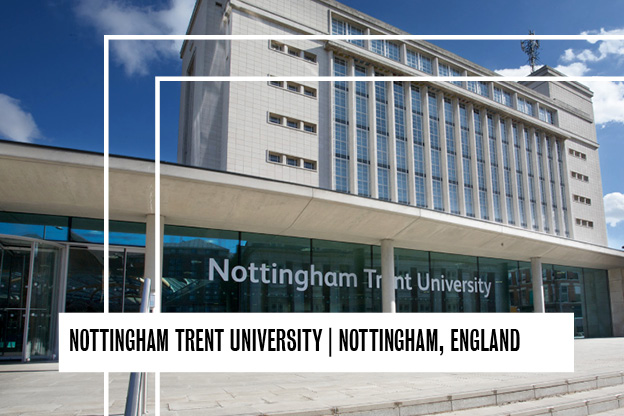 Program Type: Exchange
Nottingham Trent University, located in Nottingham, England, the most environmentally friendly university in the UK, running entirely on renewable resources and granted Fairtrade status. NTU's current focus is internationalising their curriculum, expanding partnerships and research collaborations to attract more international students for a more diverse global perspective. Nottingham is one of the most popular student cities in the UK, with an award-winning, extensive public transportation system connecting students to every manner of entertainment and culture from football and cricket to eclectic music venues to diverse nightlife.
---
Approvals on an ongoing basis until 15-Feb: Fall (for Graphic Design and Fashion Design students)
*Early applicants receive preference.
---
Minimum GPA 3.0
Matriculation in a Bachelor's degree program.
Fashion Design students must apply online and obtain academic advisement and approval of the Faculty Coordinator. Fashion Design students may study during their 7th Semester.

*Specialization: Knitwear


**Portfolio Requirement: If meeting for an interview, please make sure to bring your portfolio that includes your fashion art work and garments that you have made. These should be represented as real garments and NOT Just PHOTOS of garments. Students should also bring knit swatches.

For students currently abroad and interviewing over Skype: Students must email Prof. Skocir their Skype username, upload their current work to Google Drive and share it a minimum of 2 days prior to interview.

Graphic Design students must apply online and drop off a portfolio to Prof. Frederun Scholz (D-315) with 12 pieces of recent work no later than February 15th by 5:00pm. Students must obtain academic advisement and approval of the department Chairperson/Advisor.
---
---
A detailed Academic Calendar can be viewed on the NTU website.
---
Students are responsible for making their own accommodation arrangements for the duration of their stay. Guidance on accommodations is provided on the NTU website.
---
US citizens will enter as student visitors and will not require a Study Visa for the duration of their stay in England. All non-US citizens are encouraged to carefully review the Study Visa requirements. Supporting documentation will be provided after approval.
---
FIT requires all students to be covered in the U.S. and internationally for the duration of their study abroad program. Two types of coverage are required:
1. FIT requires students to be covered abroad for the duration of their program. This policy is mandatory, therefore students cannot waive it.
Coverage abroad: GeoBlue Study Abroad Insurance
*Students will be enrolled and account will be billed before start of program. More detailed information about coverage and claims processes will be provided post-approval.
2. FIT requires students to be covered in the U.S. for the duration of their program. Students may waive the Haylor insurance using the standard waiver process if they already have a U.S. based insurance policy with equal or better coverage.
---
A copy of this form may be brought to Financial Aid Services so that a careful review of your program costs may be completed by an assigned financial aid counselor.
---
See the Scholarships & Financial Aid page.
---
Application, Instructions and Preparations