Institute Suprieur de Communication et Publicite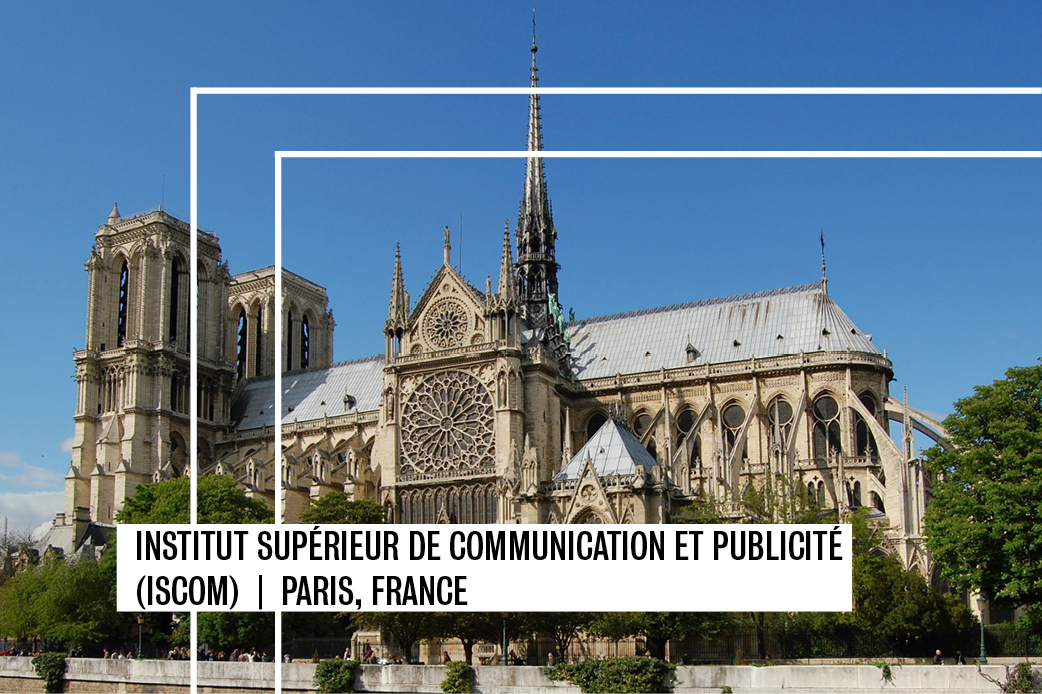 Program Type: Semester Study Abroad
Institut Supérieur de Communication et Publicité (ISCOM), located in the ninth arrondissement of Paris, has established itself as a premier training institute for students of advertising and communications over the past 30 years. Students will be immersed into the professional world through their strong alumni network and industry partnerships. Located in the cultural center of Paris, students can access every facet of creative expression from the Louvre to the Opéra Garnier to Le Grand Rex.
---
1-Oct: Spring
---
Minimum 3.0 GPA
Matriculation in a Bachelor's degree program.
Advertising & Marketing Communications students must obtain academic advisement and the approval of the department Chairperson/Advisor.
Advertising & Marketing Communications students are eligible during their 5th, 6th or 7th semesters (Spring semester only).
---
FIT students choose from preset ISCOM modules during their time abroad in order to transfer back the appropriate credits to FIT. Each module has several ISCOM courses for ISCOM International Programs.
Review ISCOM course modules here for Spring
French Language
Although the completion of French Language is not required as a pre-requisite before participating in this program, all students must register for a French Language class during their study abroad semester at ISCOM. Students will take a placement exam prior to the start of the semester to determine the appropriate French level course.
Internship
Students will have a unique opportunity to participate in an internship (most are unpaid) through the International IMC Module during the semester. Cumulatively the internship will be the equivalent of two months and it is integrated into the curriculum (see link above). Keep in mind, it is not mandatory to participate in the internship and internship course.
---
A detailed Academic Calendar can be viewed on the ISCOM website.
Spring Semester - late January/early February through early July.
---
Students are responsible for making their own accommodation arrangements for the duration of their stay. ISCOM does not provide student housing; however, they are a partner of Studapart, a student housing service where you can find rentals close to ISCOM.
Comforts of Home is Europe's leading provider of accommodations for study abroad students and the housing partner of choice of many Paris universities.
---
Students will be required to apply for a Study Visa for the duration of their stay in France. Students are encouraged to carefully review the Study Visa requirements. Supporting documentation will be provided after approval.
---
Health Insurance
FIT requires all students to be covered in the U.S. and internationally for the duration of their study abroad program. Two types of coverage are required:
1. FIT requires students to be covered abroad for the duration of their program. This policy is mandatory, therefore students cannot waive it.
Coverage abroad: GeoBlue Study Abroad Insurance
*Students will be enrolled and account will be billed before start of program. More detailed information about coverage and claims processes will be provided post-approval. Students may be responsible for purchasing French insurance; in which case, they will not be billed for GeoBlue insurance.
2. FIT requires students to be covered in the U.S. for the duration of their program. Students may waive the Haylor insurance using the standard waiver process if they already have a U.S. based insurance policy with equal or better coverage.
Wellness
Students are eligible for student support services offered to other ISCOM students. Please review their website for further information.
---
A copy of this form may be brought to Financial Aid Services so that a careful review of your program costs may be completed by an assigned financial aid counselor.
---
See the Scholarships & Financial Aid page.
---