Central Saint Martins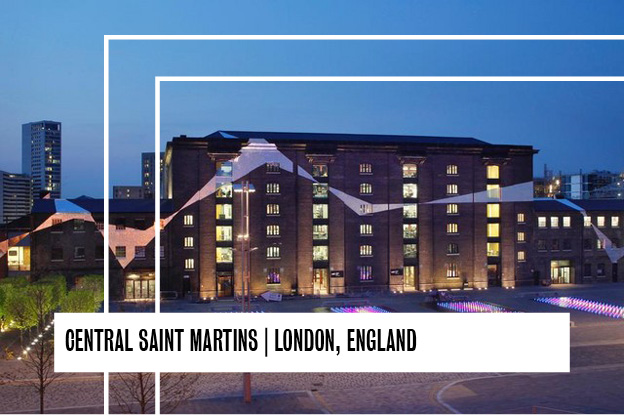 Program Type: Semester Study Abroad
Central Saint Martins (CSM), located in the centre of London's King's Cross, England, is a world renowned arts and design college of University of Arts London. CSM offers specialized programs in Fashion, Graphic Communication Design, and Jewellery and Textiles that focus on merging the intellectualism of design with practical skills of production. London is a leading global city from almost every perspective from arts to education to finance, with a diverse range of peoples and cultures and more than 300 languages spoken in the Greater London area.
---
15- January: Fall
---
Minimum 3.0 GPA

Matriculation in a Bachelor's degree program

Students are eligible to participate during their 5th semester (Fall Term only), and must complete academic advisement and approval of the Faculty Coordinator prior to acceptance.

Fashion Design students must obtain three faculty recommendations:
- one from a Fashion Design Apparel professor
- one from a Fashion Design Art professor
- one from a Liberal Arts professor
Portfolio Requirement: After submitting your application there is a preliminary digital portfolio submission requirement. Digital portfolios will be reviewed by the CSM portfolio committee, and you will be notified if you are selected for an in-person interview.
Please upload your best work to the Google Drive folder that will be shared with you after you submit your application. When the folder is complete, right click on the folder and share it with asta_skocir@fitnyc.edu. The folder should include:
6-10 images from your journal
3-4 images from your portfolio (artwork from your FF classes)
2-3 images of garments you have made (can be current drapes and muslins)
You can add additional images to your digital portfolio at any time.
Please note that images can be photos taken with your phone; do not worry about the quality of the images. We are looking for content only.
Interview Requirement: If you are selected for an in-person interview, please be sure to bring your portfolio that includes:
Your fashion art work
Garments you have made. These should be represented as real garments and NOT just photos of garments.
Your creative journal
For students currently abroad and interviewing over Google Hangouts: Students must email Prof. Skocir, upload their current work to Google Drive and share it a minimum of 2 days prior to interview.
---
Fashion Design students take courses in:
BA (Hons) Fashion: Fashion Design with Knitwear
BA (Hons) Fashion Design Womenswear

Please note: Liberal Arts courses are not available at CSM.
---
A detailed Academic Calendar can be viewed on the CSM website.
---
Students are responsible for making their own accommodation arrangements for the duration of their stay. Students may choose to live in one of the University's halls of residence or in a privately-rented home.
UAL Housing for Study Abroad Students
---
US citizens will enter as student visitors and will not require a Study Visa for the duration of their stay in England. All non-US citizens are encouraged to carefully review the Study Visa requirements. Supporting documentation will be provided after approval.
---
Health Insurance
FIT requires all students to be covered in the U.S. and internationally for the duration of their study abroad program. Two types of coverage are required:
1. FIT requires students to be covered abroad for the duration of their program. This policy is mandatory, therefore students cannot waive it.
Coverage abroad: UHC Study Abroad Insurance
*Students will be enrolled and account will be billed before start of program. More detailed information about coverage and claims processes will be provided post-approval.
2. FIT requires students to be covered in the U.S. for the duration of their program. Students may waive the Haylor insurance using the standard waiver process if they already have a U.S. based insurance policy with equal or better coverage.
Wellness
UAL's Student Services team provide a wide range of counseling, health and disability services to all enrolled students. Refer to their Student Services site for details on what services are available to you.
---
A copy of this form may be brought to Financial Aid Services so that a careful review of your program costs may be completed by an assigned financial aid counselor.
---
See the Scholarships and Financial Aid page.
---
Application, Instructions and Preparation