Arts University Bournemouth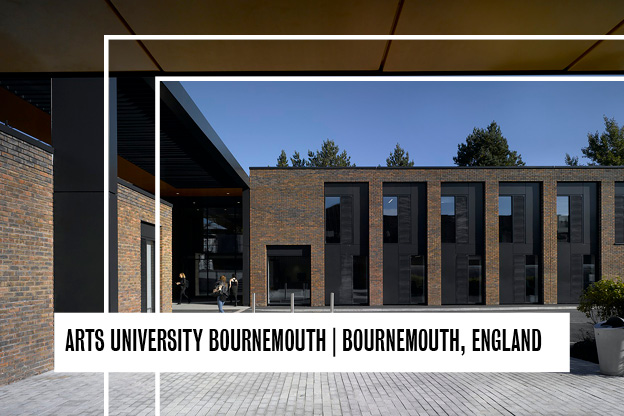 Program Type: Exchange
The Arts University Bournemouth (AUB), located in Bournemouth, England, is a leading creative industries university that takes education to the next level through inspiring instruction that engages students to collaborate and achieve their professional aspirations. AUB is the top UK university for employability and offers a broad range of programs in every creative industry. A coastal town in southwest England, Bournemouth is popular tourist destination with notable Victorian architecture, beaches and bustling nightlife.
---
15-Feb: Fall
---
Minimum GPA 3.0
Matriculation in a Bachelor's degree program.
Graphic Design students must apply online and drop off a portfolio to Prof. Frederun Scholz (D-315) with 12 pieces of recent work no later than February 15th by 5:00pm. Students must obtain academic advisement and approval of the department Chairperson/Advisor.
Graphic Design students are eligible during their 7th semester.
---
Graphic Design students take courses in the Graphic Design BA (Hons) Program at AUB.
---
A detailed Academic Calendar can be viewed on the AUB website.
---
Students are responsible for making their own accommodation arrangements for the duration of their stay. Students may choose to live in one of the University's halls of residence or in a privately-rented home.
AUB Housing
Private Rented Accommodation
---
US citizens will enter as student visitors and will not require a Study Visa for the duration of their stay in England. All non-US citizens are encouraged to carefully review the Study Visa requirements. Supporting documentation will be provided after approval.
---
Health Insurance
FIT requires all students to be covered in the U.S. and internationally for the duration of their study abroad program. Two types of coverage are required:
1. FIT requires students to be covered abroad for the duration of their program. This policy is mandatory, therefore students cannot waive it.
Coverage abroad: GeoBlue Study Abroad Insurance
*Students will be enrolled and account will be billed before start of program. More detailed information about coverage and claims processes will be provided post-approval.
2. FIT requires students to be covered in the U.S. for the duration of their program. Students may waive the Haylor insurance using the standard waiver process if they already have a U.S. based insurance policy with equal or better coverage.
Wellness
The Student Support Office at AUB strives to ensure that no student's academic studies are impacted by a lack of support. See how their Student Support office can help you adjust to life at AUB.
---
A copy of this form may be brought to Financial Aid Services so that a careful review of your program costs may be completed by an assigned financial aid counselor.
---
See the Scholarships & Financial Aid page.
---
Application, Instructions and Preparations