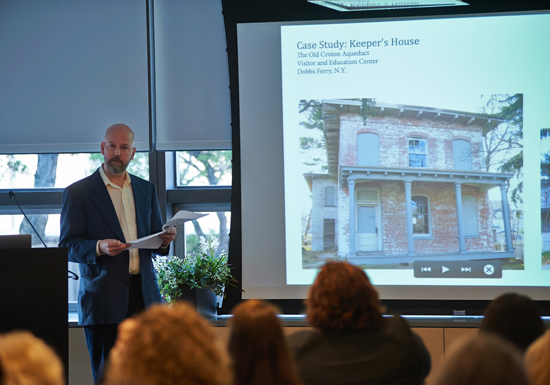 Course work in this program culminates in a Masters thesis project for which each student chooses a subject, researches, analyzes, and synthesizes findings in a written document that examines a real world problem. All thesis projects are related to the exploration of sustainability in interior environments, and are evaluated by faculty and industry experts. Our first class of students graduated in 2013 and we are very proud of the high level of inquiry into sustainability in the built environment that they have established. We invite you to read the abstracts of our completed theses below and if you are intrigued please feel free to download the full thesis.
Alina Ana Coca, 2013
Attaining an Integrative Design Team
Mentor: Barbara Campagna

We live in an era of climate change, dramatic technological, cultural, and social changes, new economical and political realities and developments including creation of European Union organization, and paradigm shifts in many areas of human activities. Complexity of issues that we need to address in specific fields call for updating methodologies, and require consolidated effort of various specialties. The design and development of the built environment is one of such fields that today necessitate a team of professionals to respond to the 21st century requirements of the building process. In building design and construction one of the major problems is working with traditional teams which cannot respond to today's complex design challenges.
Therefore traditional design team, with limited collaboration will result in projects that do not address contemporary needs. The change of the frame work in designing a building requires not only resetting the thinking process, and accepting the proficiency of experts, but also necessity to address the interrelationships and interconnectedness of humans with cultures preservation and ecosystems protection. The development of a holistic working structure, which includes a new process and a new team, would be a valuable proposition for the building process. It would be not only an Integrative Design Process (7 Group, 2009, p.xiv), which has already been developed by the 7 Group in 2009, but also an Integrative Design Team proposed in this study. A case study of Sinca Noua village was used to illustrate in this thesis the necessity of creating and using an Integrative Design Team in a design and building process.

For this process Sinca Noua community needs were revealed, including its economical development, and preservation of its valued cultural heritage and natural ecosystem. This information will be used in planning and construction of a proposed eco-hotel. For this specific typology of proposed inn, named Valras, two new key experts: a cultural anthropologist and an ecosystem ecologist are being recommended.

The concepts of Biophilic design elements and attributes, the principles of eco-tourism, and five inspirational precedents were also used to develop appropriate initial approach for this project. The potential result, attaining an Integrative Design Team model, could lead towards achieving a promising holistic project, on a platform that reaches a comprehensive approach, with a multidisciplinary collaboration, which will allow conservation of natural resources, and continuation of the cultural ideals.
Heidi Korsavong, 2014
The Role of Delight in Furniture Longevity
Mentor: Fiona Anastas

This thesis seeks to define the physical and intangible factors that contribute to furniture longevity. Delight, which can be understood as an emotional response resulting from feelings of immense gratification and happiness, is implied to be one of these intangible factors.

Existing literature on the subject of object endurance and product longevity was reviewed and provided the initial structure to categorize these factors. Professionals in the interior and furniture design industry were interviewed to give richness and context to the nature of this inquiry. The insights indicate an initial framework for users to evaluate the quality and value of existing furniture pieces and provide preliminary considerations for contemporary designers seeking to design furniture for longevity.
Christine Hyuang Kwon, 2013
Worker Safety and Health in Labor Practices in Sustainable Residential Buildings
Mentor: Gregory Dietrich

A growing number of sustainable residential buildings have been adopting green development rating systems, such as the Leadership in Energy and Environmental Design (LEED) program sponsored by the U.S. Green Building Council (USGBC). The LEED rating has focused primarily on the buildings performance: energy and water efficiency, indoor environmental quality, materials and resources, etc. In this context, sustainable systems and models generally do not address the variety of social impacts of built environments.
In particular, current green construction practices rarely take into consideration the safety and health of the people who install sustainable products and technologies. For the purpose of the study, three examples of high-rise apartment buildings serve as the launching point for a discussion that may help identify and evaluate worker safety and health in green construction. The study explores major factors in sustainable development, social justice and labor practices, local laws, and green building ratings and certifications in the United States; it also provides an analysis of the green rating systems associated with worker safety and health in green residential buildings.

The result of the research indicates that labor practice is not fully considered as a part of sustainability in the construction of green buildings. Present polices, such as Occupational Safety and Health Administration (OSHA) protect only short-term dangers in traditional construction practices, rather than long-term accumulated impacts on worker health and safety (Urbina, 2013). Some recommendations proposed in this research are public awareness, policy, green initiatives, and green guidelines be used to improve construction worker health and safety in green construction practice.
Lawrence Langham, 2013
The Integration of Existing Building Apertures for Daylight & Views in Exhibition Environments
Mentor: Barbara Campagna

Daylight presents challenges as a source of illumination for exhibitions, notably because of the damaging effects that UV radiation and high light levels can have on collections materials. Daylights ephemeral quality means that it is much more difficult to control and predict in the ways that artificial light can be. Additionally, there are also concerns regarding human comfort in terms of glare and heat gain during periods of direct sunlight. Yet daylight can be highly beneficial, bringing potential environmental, economic, and health benefits, in addition to an array of interpretive, aesthetic, and programmatic possibilities.
These qualities make daylighting a crucial dimension in the development of sustainable strategies for interior environments. This thesis examines the challenges and benefits of daylighting in order to look at how daylight apertures in exhibitions may benefit visitors, and offer opportunities to make connections between the experiences presented in the exhibition and the broader context of the exterior environment. Existing literature from several interrelated disciplines was reviewed in the process of preparing this thesis. Professionals were interviewed, and museum site visits were conducted. A project was identified as a case study. Research, site analysis, preliminary view and daylight analysis were conducted.

A matrix of design options was compiled, tailored to the case study scope of project. The results indicate the importance of integrating daylighting expertise in the design process and how careful consideration of view can enrich the visitor experience.
Shannon M. Leddy, 2013
A Program Template for Complete Integration of Sustainability Principles into Accredited Undergraduate Interior Design Programs in the United States
Mentor: Francine Martini
Undergraduate interior design education should be the starting point in fostering thoughtful behavior in order to build a healthy environment and economy while taking human well-being into account on all levels. It is the base upon which an interior design student can develop a true understanding of the scale and importance of a more sustainable future, and the interior designer's role/responsibility in doing so.

This can best be accomplished through a seamless integration of sustainable interior design principles into an undergraduate interior design program and by transforming a curriculum into one that builds upon itself as the student moves through a program. What this means is that the basic ground work of sustainable design fundamentals is laid out at the beginning of a program with more details presented as a student takes each course. Folded into this approach is the opportunity at every stage of the program for the student to apply what is learned practically in their coursework or in a school project.

It is the continued practice and consistent application of sustainable methodology in the performance and preparation of their schoolwork that offers the best chance for our future designers to create healthier, more sustainable spaces for all people to live, work, and interact. Students will learn to approach a design project in a way that promotes social equity, is mindful of economic growth considerations and one that will ultimately better protect the environment from further deterioration and degradation.

Implementation of sustainable strategies better serve client needs, promotes good health and helps to close the Sustainability Gap (Stieg), between design theory and practice. Undergraduate interior design education is the key to necessitate this change and the place where we need to excel and begin to move the profession of interior design to the next level. The purpose of this thesis paper is to present a new paradigm for interior design education in the United States through the development of a Program Template.

This Program Template can overlay any accredited undergraduate interior design program and be tailored to its particular approach and structure. The learning outcomes include students who have an awareness of and proficiency in the application of sustainability principles. These students will, subsequently, lead the field of interior design into the next phase of its future where sustainability is not an option but instead is an inherent part of what interior designers provide for and create. Sustainable Design will become just Design.

Olesya Lyusaya, 2013
Sustainable Strategies for Residential Construction in Midland Beach, Staten Island
Mentor: Peter Johnston
This thesis undertakes an exploration of the best practices in material selections and home features that could inform rebuilding single family homes in Midland Beach, Staten Island in the aftermath of unprecedented flooding brought by Superstorm Sandy. This research first provides an overview of attributes of residential materials and features, which are defined as sustainable and/or resilient to floods.

Precedents of flood mitigation and possible reconstruction solutions in other cities are identified, along with rebuilding recommendations provided by Federal Emergency Management Agency (FEMA). The purpose of the case study performed was to determine if the homeowners approach to re-building homes in Midland Beach, Staten Island did change after the natural disaster. The research goal was to learn if homeowners are making resilient and sustainable choices in reconstruction of their residences. Surveys and interviews with residents in Midland Beach, Staten Island were conducted to gain insight into which, if any, resilient and sustainable choices were made by the residents of this area.

The case study results showed that some of the surveyed and interviewed homeowners made rebuilding decisions that resulted in more flood resistive homes. In some cases these decisions were made due to recommendations provided by contractors. Not all homeowners sought rebuilding information and some didn't receive resilient material recommendations, resulting in non-resilient materials used in rebuilding of their homes.
Jessica News, 2013
Fire Retardants in Commercial Furnishings
Mentor: Jean Hanson
Bioaccumulation and potential negative health implications have raised concerns over the use of some fire retardant chemicals. In the design and building industry, fire retardants are required in some furnishings to meet building code requirements. This paper seeks to reveal the current state of affairs regarding fire retardants in commercial building furnishings. An outline of the history of fire retardants; the benefits and risks associated with their use; regulatory actions; and recent proceedings are presented. Because of the controversy surrounding some fire retardants, designers and those who specify furniture need to understand what fire retardants are used in furniture and how they are applied.

As a part of this report, a study was conducted with furniture manufacturers to reveal construction methods, fire retardant materials utilized, and manufacturing approaches to meeting fire codes. It was determined through this study, that the application of a barrier material is used frequently to meet the strictest code requirements. Future research, however, is still needed to determine which fire retardant chemicals are being used.
Laura Novich, 2014
An Exploration of Deconstruction in New York City
Mentor: Amanda Kaminsky

Deconstruction in the built environment is the selective and careful dismantlement of building materials during or before the demolition of built structures or spaces in order to repurpose, reuse and/or recycle them. As a relatively new concept, deconstruction has not yet been widely adopted by the New York City design and construction community. This research aims to identify underlying reasons of why so few building materials are salvaged and why the practice of deconstruction is not more prevalent. This paper seeks to explore the current strategies in place for demolition waste removal, understand if deconstruction can expand in New York City and what barriers exist that are hindering further implementation.

An overview of the current demolition waste management practices in New York City was established through an exploration of government websites and publications, scholarly research and data, sustainable certification programs, construction and demolition waste management regulations in similar metropolitan areas and interviews with building industry professionals.

By developing an understanding of the benefits of deconstruction and its role in New York City, several challenges that prevent its execution were identified: deficient communication, insufficient access to used building material markets, lack of government involvement, absence of materials designed for recyclability and inadequate education. Of these challenges, the most significant obstacle to deconstructions prevalence in New York City is the lack of government involvement. Further quantifying research could help validate this conclusion and lead to potential changes in government policy.
Elizabeth Vergara, 2013
A Design Process for a Sustainable Apartment Renovations in New York City
Mentor: Susan Kaplan
This thesis explores establishing a process that will support designers in their effort to implement sustainable strategies into renovations of residential spaces in New York City. It is the conviction of the author that there is a significant difference between the design decisions made by the clients on their own, without counsel of knowledgeable designers. The clients that have guidance make design decisions that more accurately fulfill their needs, encompass a broader scope of health and life style concerns, while positively contributing to environmental concerns. Research for this exploration is focused on the need for a comprehensive understanding of standards and certifications relevant to sustainable residential design, tools that can be used to specify sustainable products, and awareness of incentives programs developed by federal and local governments to support sustainable strategies for residential spaces.

The analysis of this research led to the creation of a basic theoretical process. Further development resulted in a series of comprehensive steps for designers to implement in order to incorporate effective sustainable strategies into their renovation projects. These steps include surveys, analysis, feed back, and the determination of appropriate tools to use. Surveys will establish the basic information that designers should know about their client and the physical residence. Responses to questions will help in assessing client needs and inform the designer about the level of sustainable concern which can be applied to the project. Analysis of survey will correlate client needs to sustainable issues and benefits, which can be achieved by use of sustainable strategies. The clients will be made aware of the connections between their needs and sustainable issues. Once they understand the benefits, which can be achieved they will be able to participate in choosing which sustainable strategies could be implemented.

This will help ensure that the process concludes with a direction for sustainable design solutions that are geared toward clients specific needs and concerns. A further analysis will connect prioritized strategies to available tools. Designers will be able to utilize this process to promote and integrate sustainable strategies into residential renovations, therefore, positively impacting the industry in the shift towards a sustainable practice.
Michael Wickersheimer, 2013
Healing by Design: How Sustainable Design Strategies that Pertain to the Built Environment Can Be Found in the Frameworks and Principles of Complementary & Alternative Medicine
Mentor: Janus Welton
This investigation of complementary and alternative medicinal therapies aims to demonstrate that sustainable design strategies that relate to the built environment can be found in the principles of complementary and alternative medicine. The concept of health and healing as it relates to the human body, the built environment, and sustainability is discussed, including an examination of biophilic design as a possible framework.

Alternative medical systems including traditional Chinese medicine and Indian Ayurveda are surveyed, in addition to other complementary and alternative therapies, in order to determine potential elements relatable to sustainable design. Five topics culled from complementary and alternative medicine are designated and discussed: Harmony, Nutrition, Spirit, Orientation & Circulation, and Senses. Further investigation into alternative medical systems is suggested in order to generate additional relevant concepts.