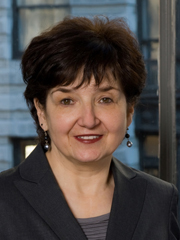 Susan Kaplan has more than 25 years of experience and is the Director of Specifications and Sustainability at HLW International. In her role as specifier, she continually evaluates product quality and green claims. She is responsible for maintaining rigorous specification standards for both the architectural and engineering components at HLW. As Director of Sustainability she is charged with ensuring constant integration between all the members of the project team. She is currently working on several high level green and LEED projects.
Susan is presently the Environmental Chairperson of the New York Metropolitan Chapter of the Construction Specifications Institute (CSI). She was previously a member of the Board of Directors of New York City USGBC. Susan is a working member of the National CSI GreenFormat committee.
For the past four year she has taught Ecology and the Built Environment in the Interior Design Department at Fashion Institute of Technology, SUNY. In 2010 Susan taught a Materials class directly connected to the Solar Decathlon competition at City College of New York (part of CUNY); in 2011 she began teaching sustainable materials at the Masters Degree level at both CCNY and FIT. She has taught numerous classes in specification writing and given talks on aspects of green specifying, product choice, and LEED updates.