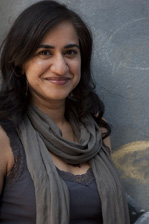 Seema is a Senior Sustainability manager at YR&G, a strategic sustainability-consulting firm. An interior designer by training, Seema has expertise in green building strategies, design assistance, construction best practices, LEED coordination, documentation and project management, interior architecture, graphics, lighting design, and green building education. She currently is an adjunct professor at FIT SUNY teaching the graduate class, The Future of Sustainable Interiors.
Seema primarily works as a project manger, facilitating sustainability goals across a variety of LEED rating systems with specific expertise in LEED for Interior Design and Construction. She has experience teaching and presenting on sustainability related topics to a wide range of professional audiences.
Additionally, she is known for her community contributions as a fine artist and musician. She is a member New York USGBC Chapter Urban Green Council, a Board member of the IIDA New York Chapter and Co-chair of the IIDA NY Sustainability Forum. She is active in a design of guideline development with NYC DDC, and a Technical Expert and Co-Author for LEEDuser - a LEED guidance tool developed in partnership with BuildingGreen and the USGBC, as well as the Board of Directors for Bands for Lands, a non-profit blending music, art, and land conservation.