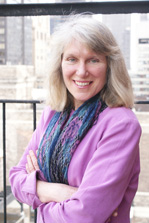 Catherine Bobenhausen is an adjunct faculty member in the Interior Design Department, Sustainable Interior Environments Graduate Program. Currently, she is a Senior Industrial Hygienist at the NYC firm, Vidaris, Inc., a 200 person firm specializing in niche consulting services to the architectural/engineering/construction industry, focusing on high-performance buildings and specialty structures. In her work, she offers toxicological review for the specification of safer building products, indoor air quality (IAQ) consulting (including LEED v4 testing), chemical exposure monitoring, industrial hygiene (IH) and environmental health consulting.

Catherine also serves on the Technical Committee of the Health Product Declaration Collaborative, which is committed to continuous improvement through transparency, openness and innovation in the product supply chain, for interior finishes and other building materials. Through Clean Production Action, she achieved accreditation as an Authorized GreenScreen Practitioner (TM) for in-depth chemical hazard assessments and toxicological reviews of the chemical formulations used in carpets, upholstery, textiles, etc.

Additionally, she currently serves as a full member of the ASTM International Sustainability Committee (E60). In June 2014, she received a Service Award for her contributions to the American Industrial Hygiene Associations Green Building Working Group.

Catherine is a Certified Industrial Hygienist (CIH) in Comprehensive Practice, American Board of Industrial Hygiene, a Certified Safety Professional (CSP) in Comprehensive Practice, Board of Certified Safety Professionals, and a LEED Accredited Professional, in Building Design + Construction.

Catherine holds a Master of Science, Toxicology Option, Environmental Engineering Department, New Jersey Institute of Technology Institute of Hazardous & Toxic Waste Management, Rutgers Medical School and the University of Medicine and Dentistry of New Jerseys Graduate School of Biomedical Sciences and a Bachelor of Arts in Environmental Science, State University of New York College at Purchase.