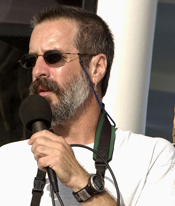 Professor Arthur Kopelman, is a population ecologist specializing in the population dynamics and feeding and behavioral ecology of fin and humpback whales and various seal species in the waters in and around NY. He received his PhD in 1982 from The Graduate School and University Center, CUNY, and has been a faculty member of FIT since 1981, where he is a Full Professor of Science. His field work has involved detailed photo-identification studies of finback and humpback whales for 28 years, and harbor and grey seals for 20 years.
Dr. Kopelman is one of the co-founders, President, Volunteer Coordinator and web master of the Coastal Research and Education Society of Long Island (http://www.cresli.org), a non-profit research and education organization whose mission is: To promote and foster understanding and stewardship of coastal ecosystems through research and education.
In May 2010, Dr. Arthur H. Kopelman was appointed to Distinguished Service Professorship rank by the State University of New York Board of Trustees. Distinguished Professorship is the highest honor conferred upon instructional faculty in the State University of New York (SUNY) system. Dr. Kopelman is the only faculty member at FIT to achieve a SUNY Distinguished Faculty appointment.