September 04, 2014
September 3, 2014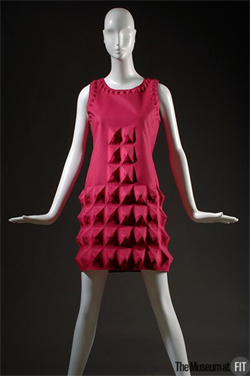 When people think of Lauren Bacall, they most often recall her Hollywood glamour and her films, along with her fashion. Less often do they remember the personal style of her later years. But that's exactly what the graduate students in FIT's Master of Arts program in Fashion and Textile Studies: History, Theory, Museum Practice will bring to light with Lauren Bacall: The Look, which will be on view in Gallery FIT from March 3 through April 4, 2015.

Culling from a vast collection of 700 garments that Bacall, who died on August 12, 2014, donated to The Museum at FIT in 22 separate gifts starting from 1968 and ending in 1986, the students will focus on five major designers Norman Norell, Marc Bohan for Christian Dior, Pierre Cardin, Yves Saint Laurent, and Ungaro. The students will select 15 items that comprise the most compelling and scholarly exhibition, with the emphasis being on Bacall's later New York years and persona.

I think her style was really defined by her personality simple and androgynous, said Valerie Steele, director and chief curator of The Museum at FIT. She was very interested in clothes and had close relationships with many designers. These pieces are from the 1950s, 60s and 70s, not her famous period as an actress, and demonstrate more of her personal style. Its also much more a modern sportswear style than what you would think of as a Hollywood style.

The exhibition is but one aspect of FIT's interdisciplinary Fashion and Textile Studies: History, Theory, Museum Practice program. Students are trained to approach costume and textile history from various traditional and innovative perspectives, from how to identify fibers and treat various kinds of objects, to the proper way to roll a textile and dress a mannequin. Graduates find positions as curators, collections managers, historic house directors, fashion and textile historians, costume and textile conservators, and vintage clothing and textile dealers, among many others.

Some of the pieces in the Bacall collection can be viewed in the Museum's online gallery.