September 08, 2014
September 5, 2014
FIT's Tenille Warren in The New York Times

In 1994, when Tenille Warren was 17, college looked like a no-brainer. She was graduating from the selective Duke Ellington School of the Arts, Washington, D.C.s Fame high school, a standout student with braids and a head full of creative ideas. And in the back pocket of her faux designer jeans she had a dream offer literally.

In an article published Sunday, August 29, 2014 in The New York Times, journalist Diana Kapp chronicles Warrens long journey from seventh grade at Stephen Kramer Junior High School, to fulfilling her dream to study to become a fashion designer at the Fashion Institute of Technology. Warren, along with half of her class at Stephen Kramer randomly selected from all achievement levels was invited to take part in the I Have a Dream Foundations college program, started by education philanthropist Eugene Lang 33 years ago. The program is centered on a promise so unlikely that few of the 67 participants parents believed it: graduate from high school and your college tuition will be covered.

In the Times piece, Kapp documents Warrens resilience and ability to overcome the challenges of poverty to become what her mentor referred to as a superstar. Warren received her AAS degree in Fashion Design from FIT last May and is currently a fifth-semester Fashion Design major in the BFA program. She is indeed following her dream.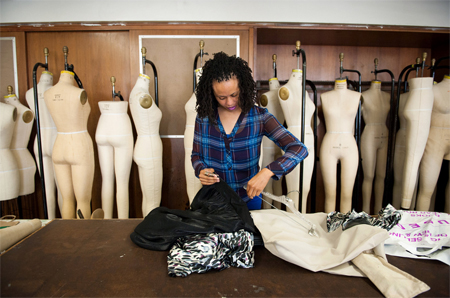 Image by Nancy Borowick for The New York Times.View slideshow.