October 01, 2014
For the second consecutive year, a team of four students in the Jay and Patty Baker School of Business and Technology, representing the United States, has won the Retail Futures Challenge, an international competition that takes place at the annual World Retail Congress. The FIT team, who traveled to Paris for the competition, bested teams from Hong Kong, London, Tokyo, and Marche, Italy, on September 30, with their concept for the Samsung Life Store "The Smart Apartment."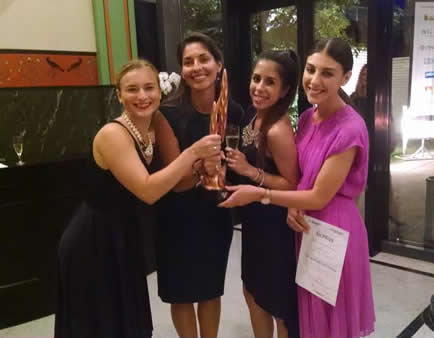 The student team with their award (left to right): Victoria Kulesza; Paula Cushman; Alison Rebozo; and Cassandra Napoli

Paula Cushman is a second-semester student in the one-year program in Advertising and Marketing Communications. She is from Locust Valley, NY. Victoria Kulesza is a fifth-semester Fashion Merchandising Management student from Morris Plains, NJ. Cassandra Napoli is a seventh-semester International Trade and Marketing for the Fashion Industries student from Glen Cove, NY. Alison Rebozo is a seventh-semester FMM major and comes from Hillside, NY.
For this years competition, the student teams were challenged to develop a new retail concept for the Samsung Life Store. They had to consider the needs of the millennial consumer in order to understand how the "internet of things"—the connected home, the convergence of products, and changing lifestyles—dictates the look, role, and delivery of a store selling Samsung appliances. Based on this, each team developed a retail store concept that included a basis for their concept, an explanation of the shoppers journey, a business model, and an earnings forecast. Samsung worked closely with the competing teams to advise and mentor the development of their ideas.
Each teams preliminary work had been submitted prior to the competition. Then, the retail concepts were displayed at the World Retail Congress, with teams on hand to discuss their concepts with executives. Finally, the teams made formal presentations to a panel of judges and an audience of retail executives.
The panel of senior retailers, design experts, editors, and Samsung executives included Ian McGarrigle, founder and chairman, World Retail Congress; Gerald Reitmayr, head of retail Europe, Samsung; Robert Thiemann, founder and editor in chief, Frame; Alexander Salzer, COO, Liganova The BrandRetail Company; Bernie Brookes, CEO and MD, Myer Holdings Limited; and Nora Fehlbaum, co-CEO, Vitra.
"It really says a lot about the students and FIT that we have won this major competition for the second consecutive year," said Robin Sackin, chair, Fashion Merchandising Management, and advisor for the FIT team. "The students gave an exceptional presentation. They worked extremely hard and made all of us at FIT so proud."