May 02, 2014
Ten second-semester FIT students, who were invited by First Lady Michelle Obama to join her on Monday, May 5 for the ribbon cutting of the newly renovated, and newly named, Anna Wintour Costume Center at the Metropolitan Museum of Art, sat with FIT President Joyce F. Brown and fashion design luminaries at the event. The Met's new $40 million center is named for the editor of Vogue magazine.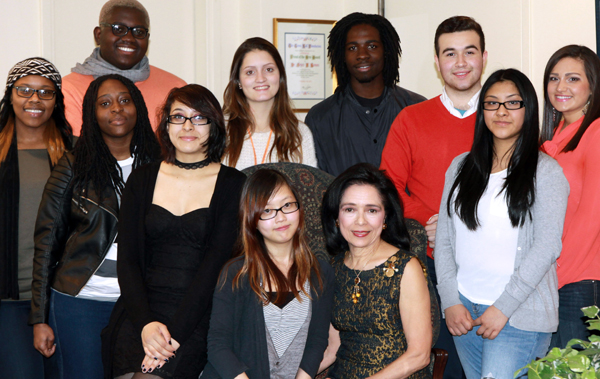 The veritable "who's who" list of top designers included FIT alumni Calvin Klein and Michael Kors, plus Oscar de la Renta, Ralph Lauren, Donatella Versace, Carolina Herrera, Marc Jacobs, Donna Karan, Ralph Lauren, Diane von Furstenberg, Tory Burch, Tommy Hilfiger, Zac Posen, Victoria Beckham, Alexander Wang, Alber Elbaz, Proenza Schouler, Vera Wang, Mary Kate and Ashley Olsen of The Row, Reed Krakoff, Prabal Gurung, and the Mulleavy sisters of Rodarte. Sarah Jessica Parker and Andre Leon Talley also attended.

Mrs. Obama noted that the Met will be opening up the world of fashion like never before. She pointed out that many of the hundreds of thousands of visitors to the new space will be students. Maybe they'll come initially because they love clothes and fashion but then will learn fashion is a business, an art, and a career.

"This is for anyone curious about fashion," she said, specifically addressing the students in the audience. "Fashion is a business and an art. You're here because we want you to dream bigger. She added that they have full permission to "fail and fail and fail" until they succeed.

After her remarks, the designers, students, and other guests toured the center's inaugural exhibition, Charles James: Beyond Fashion, which features the work of the influential mid-20th century American couturier.

The diverse and talented group of FIT students, all of whom are working toward AAS degrees in FIT's School of Art and Design, represent the greater student body. They are Xiao Ying Cindy Feng, Fashion Design, from Brooklyn; Wendy Garcia, Communication Design, from Queens; Diandra Howell, Fashion Design, from Brooklyn; Mallorie Jones, Fashion Design, from Baldwin, NY; Francesca Maglara, Fashion Design, from Morganville, NJ; Domenic Ming, Photography, from Brooklyn; Collins Nai, Photography, from Bear, DE; Juan Novoa, Fashion Design, from Port Chester, NY; Brittney Rios, Illustration, from Queens; and Carolina Sanz, Fashion Design, from Miami.

These students are driven by a passion for their art and a clear vision of their careers. For example, Novoa wants to design accessible fashion for all age groups. Rios hopes to become a children's book illustrator who inspires young readers the way she has been inspired. And Howell finds design inspiration in her Guyanese heritage, specifically the vibrantly colored costumes of Carnival.