January 29, 2014
The Fashion Institute of Technology (FIT) presents
New Views: School of Art and Design Faculty Exhibition
, opening Saturday, February 8 and featuring more than 90 works from the intimate to large-scale installations including paintings, sculptures, photographs, jewelry, toys, fashion designs, illustrations, digital media, accessories, mixed media, and an interactive augmented reality application.
The focus of this years exhibition and the meaning of its title is intended to show the full and diverse range of mediums in which the colleges art and design faculty work, with a particular emphasis on pieces that reflect each artists current point of view.
Near the entrance to the exhibition, visitors will be greeted by an interactive digital work, or augmented reality app, that responds when spoken to. Perfect 10, by CJ Yeh, associate professor and assistant chair, Communication Design, is a commentary on the growing trend among Asian women to seek plastic surgery. Users experience the piece first as a mirror image of themselves, then, as they speak or shout into the screen, their image is replaced by collaged facial features of famous Asian actresses and super models.

Other art works in New Views include:
The Head, a sculpture using boxes
Fortune Teller, based on the fortune-telling game children make from paper. At 4.5x 4x 6, this is the smallest piece in the show.
All Typed Up, a handbag featuring a mock typewriter keyboard and prototype for the Kate Spade line of the same name
Sneaker Lamps, a hanging installation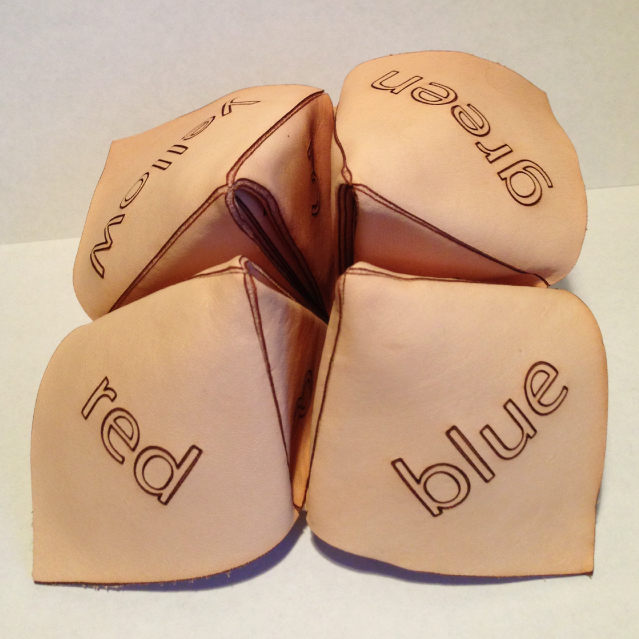 Fortune Teller, Sarah Mullins, Accessory

The teaching and learning environment in the School of Art and Design is collaborative and interdisciplinary, said Joanne Arbuckle, dean, School of Art and Design. New Views provides a glimpse into the talent and breadth of the art and design faculty at FIT.
FIT's School of Art and Design comprises 17 programs Accessories Design, Advertising Design, Communication Design, Computer Animation and Interactive Media, Fabric Styling, Fashion Design, Fine Arts, Graphic Design, Illustration, Interior Design, Jewelry Design, Menswear, Packaging Design, Photography, Textile/Surface Design, Toy Design, and Visual Presentation and Exhibition Design.

This interdisciplinary exhibition parallels and celebrates the rich diversity that FIT offers our students in the School of Art and Design, said Johannes Knoops, assistant professor of Interior Design and curator of this years show. There are pieces in the exhibition that are very cutting edge. Additionally, many faculty members chose to work in mediums outside their chosen fields, making the exhibition that much more interesting.
Exhibition Details
Dates: Saturday, February 8 Sunday, February 16, 2014
Exhibition Hours: 9:00 am 9:00 pm
Location: FIT, John E. Reeves Great Hall
Entrance: 28th Street, just west of Seventh Avenue
About the School of Art and Design
The Fashion Institute of Technology's School of Art and Design offers 17 majors to more than 3,800 students pursuing careers in fashion, art, and a wide range of design fields. In courses taught by a faculty of working professionals who bring industry experience into the classroom, students hone their artistic ability and design sense while acquiring the skills necessary to succeed in today's high-tech marketplace. FIT is committed to hands-on, practical instruction married to high-level creative insight. The innovative and relevant curriculum has been developed in collaboration with industry leaders and constantly evolves to keep pace with rapidly-changing design and business trends.
About the Fashion Institute of Technology
The Fashion Institute of Technology, a college of the State University of New York, has been a leader in career education in art, design, business, and technology for nearly 70 years. With a curriculum that provides a singular blend of hands-on, practical experience, classroom study, and a firm grounding in the liberal arts, FIT offers a wide range of outstanding programs that are affordable and relevant to today's rapidly changing industries. The college offers more than 45 majors and grants AAS, BFA, BS, MA, MFA, and MPS degrees, preparing students for professional success and leadership in the global marketplace.