December 11, 2014
Just in time for holiday shopping, Seasons Greet-
Inks
, the second annual pop-up shop at FIT, has opened in the Pomerantz Lobby. Every aspect of Seasons Greet-
Inks
named for its old-school tattoo design inspiration from decor, window displays, and music to hang tags, shopping bags, and temporary tattoos, has been designed, installed, and merchandised by FIT Visual Presentation and Exhibition Design students. The environment evokes a fantasy forest feeling, with woodland creatures (and retro-style pinup girls) welcoming visitors. Front window decals feature stylized arms holding shopping bags, while an array of holiday elements adorn the space.
Members of the FIT community, as well as the public, can experience the retro charm of old-school, holiday-themed tattoo imagery as they browse in Seasons Greet-
Inks
. The shop is selling designer and vintage clothing, shoes, handbags, jewelry, and gift items from The Society of Memorial Sloan Ketterings (MSK) high-end thrift shop, with featured designers including Christian Lacroix, Chlo, Gucci, YSL, Jimmy Choo, Manolo Blahnik, Marc Jacobs, Valentino, and Louis Vuitton, among many others. All stock is being refreshed as items are sold so that shoppers making repeat visits can discover new finds. Students from the Merchandising Society, FIT's largest student club, which also operates the successful on-campus boutique the Style Shop, are providing sales assistance.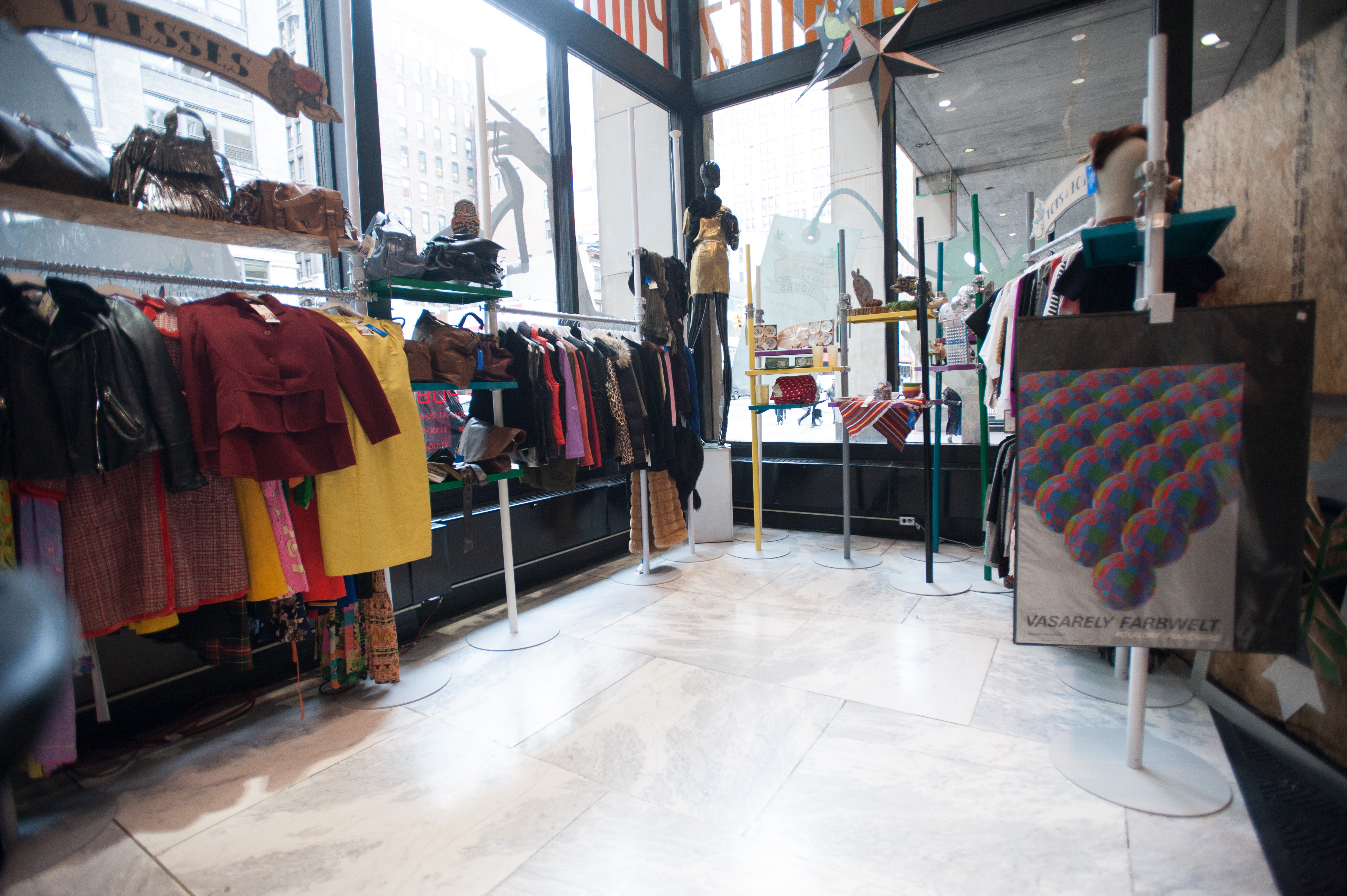 One-hundred percent of the sales benefit The Society Boutique, which supports The Society of MSKs important patient care, education, and research programs at Memorial Sloan Kettering Cancer Center.

This years pop-up shop theme, chosen by The Society Boutique team from among 12 proposals, was selected for its creativity and originality. Its modern and edgy, but warm and welcoming, said VPED student Meghan Finocchio. Its still like holiday, but refreshing. Its a new spin.

The shop is open to the public in the Pomerantz Center lobby from December 10 through 13. Hours are 11 am to 8 pm, December 10 through 12, and 11 am to 7:30 pm on December 13.