October 02, 2013
New York City Economic Development Corporation (NYCEDC) and the Fashion Institute of Technology (FIT) today announced the winners of the second class of Design Entrepreneurs NYC (DENYC), a free, intensive, mini-MBA program that teaches emerging New York City-based fashion designers how to run successful label. The program culminated with business plan presentations by the top 16 of the 35 businesses who participated in the 2013 program. DENYC, launched by NYCEDC and FIT in 2011, focuses on fashion business marketing, operations, and financial management The first-place award-winner, Becca McCharen, whose company, Chromat, designs architecturally inspired bathing suits, will receive $25,000 to implement her business plan. The second-place winner, Vasumathi Soundararajan, whose company Ken Wroy, Inc., designs men's underwear, will receive $10,000. Funding for these awards is provided by a financial contribution from G-III Apparel Group.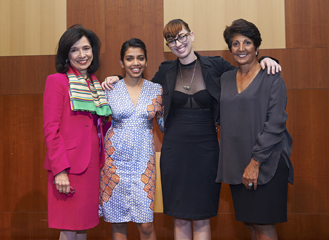 "Design Entrepreneurs NYC offers education, opportunity and funding to the City's emerging designers in order to cultivate talent and build success," said NYCEDC President Kyle Kimball. "By providing assistance to growing fashion labels, we ensure that New York City will remain at the center of the fashion world."
FIT is proud to partner with the NYCEDC and G-III for the second year of this innovative program, said Dr. Joyce F. Brown, president of FIT. We are particularly grateful to G-III for enhancing this years program with a generous gift. Because FIT offers career-oriented education on both the design and business sides of the fashion industry, the college is an ideal environment in which to host Design Entrepreneurs NYC a cornerstone of the mayors initiative to ensure that New York City remains the fashion capital of the world. DENYC gives our city's creative talent the tools that will allow them to flourish.
Chromat's designs focus on structural experiments for the human body. The company began in 2010 as an extension of McCharen's degree in architecture design; and her interest in scaffolding, city maps, wearable exoskeletons and the intricacies of undergarments has been explored as each new collection develops. Chromat swimwear, lingerie, and signature architectural cages are all made in New York City. Soundararajan's company, Ken Wroy, is a designer brand of men's underwear. Its urban fashionable feel is inspired by New York City's spirit of being bold, stylish, and electrifying.
This years judges included:
Tim Baxter, executive vice president and GMM, Macy's
June Beckstead, vice president, Apparel Design, Sears Holding Co.
Jeff Binder, consultant, former divisional merchandise manager, Bloomingdale's
Richard Chai, founder, Richard Chai, creative design consultant, Andrew Marc
Simon Dallimore, owner/consultant, Dallimore & Co.
Jonathan Duskin, CEO, Macellum Capital Management, and director, Wet Seal
Renaud Dutreil, president, Parsons School of Design Paris, and chairman, Brasil Beaute
Morris Goldfarb, CEO, G-III Apparel Group
Joseph Gromek, chair, New School University Board of Trustees, and former CEO, Warnaco
Nirjhar Jain, managing director, Plus Funding Group
Laurence Leeds, Jr., chairman, Buckingham Capital
Ellen Rodriguez, president and CEO, French Connection
Lisa Schultz, executive vice president, Apparel Design, Sears Holding Co.
Michael Stanley, managing director, Rosenthal and Rosenthal.
The grants to the two designers were part of a generous gift from G-III Apparel Group, which was also used, in part, to provide financial workshops, networking opportunities, and business-related informational events for past program participants. NYCEDC contributes $55,000 to the program.
To participate, designers are required to operate New York City-based companies that have been in business for at least one year. The majority of this years participants have been in business for less than four years.
The 35 businesses in DENYC Class of 2013, selected from 193 applicants, span a range of fashion categories, including accessories, shoes, jewelry, children's wear, men's apparel, and women's apparel. They studied throughout the U.S. and the world, including at schools in London, Sydney, and Saitama, Japan, though many graduated from New York City colleges, including Pratt, Parsons, and FIT.
The program kicked off with an orientation at G-III Apparel Groups offices on May 30, 2013, followed by three intensive weekends of instruction in June. The designers then spent the summer formalizing their business plans with the assistance of mentors and salon networking sessions. In August, they attended a business plan and pitch practice session to help sharpen their business plans and their oral presentations.
Design Entrepreneurs NYC is one of six initiatives that resulted from Mayor Bloomberg's Fashion.NYC.2020 plan, which is designed to sustain and grow the fashion industry in New York. The fashion industry employs 173,000 people in New York City, accounting for 5.7 percent of the city's workforce, and generating nearly $2 billion in tax revenue annually. In addition, the City is home to one of the worlds largest wholesale fashion markets, which attracts more than 500,000 visitors a year to its trade shows, showrooms and retail stores. The Fashion.NYC.2020 initiatives address the industry's challenges in two ways: by further positioning the City as a hub of innovation for emerging designers as well as specialty and multi-channel retail, and by attracting the next generation of design, management and merchant talent. The industry chairs for Fashion.NYC.2020 are Richard Darling, Vice Chairman of LF USA & LF Europe; Diane von Furstenberg, chairman and founder, Diane von Furstenberg Studio L.P., and president, Council of Fashion Designers of America; Terry Lundgren, chairman, president and CEO of Macy's, Inc.; Andrew Rosen, CEO of Theory; and Kevin Ryan, CEO of Gilt Groupe.
For more information about Design Entrepreneurs NYC, visit www.designentrepreneursnyc.com.
About NYCEDC
New York City Economic Development Corporation is the city's primary vehicle for promoting economic growth in each of the five boroughs. NYCEDC's mission is to stimulate growth through expansion and redevelopment programs that encourage investment, generate prosperity and strengthen the city's competitive position. NYCEDC serves as an advocate to the business community by building relationships with companies that allow them to take advantage of New York City's many opportunities. Find us on Facebook to learn more about NYCEDC projects and initiatives.
About FIT
The Fashion Institute of Technology, a part of the State University of New York, has been a leader in career education in art, design, business, and technology for nearly 70 years. With a curriculum that provides a singular blend of hands-on, practical experience, classroom study, and a firm grounding in the liberal arts, FIT offers a wide range of outstanding programs that are affordable and relevant to today's rapidly changing industries. Internationally renowned, FIT draws on its New York City location to provide a vibrant, creative community in which to learn. The college offers more than 45 majors and grants AAS, BFA, BS, MA, MFA, and MPS degrees, preparing students for professional success and leadership in the global marketplace. Among FIT's alumni are Reem Acra, Amsale Aberra, Brian Atwood, Jhane Barnes, John Bartlett, Dennis Basso, Stephen Burrows, Francisco Costa, Andrew Fezza, Norma Kamali, Calvin Klein, Michael Kors, Nanette Lepore, Miranda Morrison, Rebecca Moses, Ralph Rucci, Austin Scarlett, Kari Sigerson, Michelle Smith, and Daniel Vosovic.