May 06, 2013
Eighteen dogs of various breeds and sizes from cute and cuddly to big and dignified paraded down the runway at the Fashion Institute of Technology's (FIT) fifth annual pet apparel and accessories runway show,
BARK--Porter
. These canine models showcased unique pet garments, accessories, and products created by students and alumni of the FIT Center for Professional Studies Pet Product Design and Marketing professional development certificate program.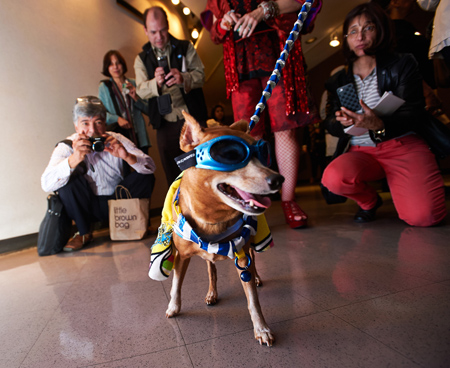 Three Best of Show awards were given for the most outstanding and salable items. First prize went to Nicole Wilson, who won a 45-minute consultation with Megan Lee, vice president of Design for the Pet Collection, Martha Stewart. Second and third prizes went to Shawn McIntosh and Rania Saghir, respectively. Judges were Mr. Lee and Jennifer Bartok, principal, Celebrity Catwalk.
This always-popular event took place on Friday, May 3 from 5:30-7 pm in FIT's Katie Murphy Amphitheatre, Seventh Avenue at 27th Street.
The show was also a charity event, held in partnership with Animal Care and Control of NYC. Three of the models were shelter dogs available for adoption.
Paul Nathan, a noted photographer specializing in portraits, fashion, and beauty, was master of ceremonies and signed sign copies of his latest book, Couture Dogs of New York. Malika Samuels, currently on Nickelodeons Nick Studio 10, attended with Tito, the dog from the show.
Since the programs inception six years ago, a number of certificate holders have gone on to start their own pet product lines or enter the pet product world. Our mission with the Pet Products program is to open up opportunities for designers and merchandisers where their previous fashion-related education and career experiences can be applied to a new exciting field that is on the upswing, said Joan Volpe, managing coordinator of the Center for Professional Studies. Owning pets is very much a part of today's lifestyle and has created a demand for a wide array of well-executed products. It is so exciting to look back and know that a number of our certificate earners are now successful in this sector.
The Pet Product Design and Marketing professional development certificate program is noncredit and consists of ten courses: Who's Who in the Pet Products World, How to Get Your Pet Apparel and Product Concepts to Market, Fashion Design for Pet Apparel, Pet Accessories and Lifestyle Product Design, Quick Sketching for the Pet Product Business, Pet Accessory Design Studio, Patternmaking for Dog Garments, Introduction to Pet Product Branding, Retail Market and Merchandising for Pet Products, and a new course, Meet the Pet Marketers, a forum featuring successful New York City pet market career success stories including retailers, manufacturers, and service providers.
The Center for Professional Studies, a department in FIT's School of Continuing and Professional Studies, offers 12 professional development certificate programs and a wide array of other noncredit courses. These courses of study, providing comprehensive coverage of a particular career specialty or field, are geared toward industry-experienced individuals seeking career advancement or change.
The Fashion Institute of Technology, a part of the State University of New York, has been a leader in career education in art, design, business, and technology for nearly 70 years. With a curriculum that provides a singular blend of hands-on, practical experience, classroom study, and a firm grounding in the liberal arts, FIT offers a wide range of outstanding programs that are affordable and relevant to today's rapidly changing industries. Internationally renowned, FIT draws on its New York City location to provide a vibrant, creative community in which to learn. The college offers 48 majors and grants AAS, BFA, BS, MA, MFA, and MPS degrees, preparing students for professional success and leadership in the global marketplace.