March 19, 2013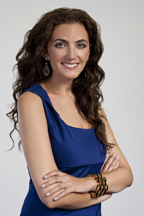 Jennifer Hyman, co-founder and CEO of Rent the Runway, the successful online company where women rent designer dresses and accessories, will be the guest speaker at the Deans Forum, presented by the Jay and Patty School of Business and Technology at the Fashion Institute of Technology (FIT), on Tuesday, April 9, 6 pm, at the Katie Murphy Amphitheatre, Fred P. Pomerantz Art and Design Center. The presentation is exclusively for FIT students.
Since launching Rent the Runway in November 2009, Hyman has managed marketing, merchandising, technology, and operations. She is listed in Crains New York Business's 40 Under 40, Class of 2012 and Fortune magazines 2012 40 Under 40.
Jennifer has been named the chief marketing officer of Fortune magazines Executive Dream Team and one of Fortunes Most Powerful Women Entrepreneurs. In 2010, she was selected for Inc. magazines Top 30 Under 30 list. Fast Company listed her among the Most Influential Women in Technology.
Hyman received her BA and MBA from Harvard.