March 21, 2013
The Fashion Institute of Technology (FIT) and the FIT Foundation will honor longtime supporter George Kaufman (chairman, Kaufman Organization), Kay Krill (president and chief executive officer, ANN INC.), and Stefano Tonchi (editor-in-chief, W magazine) at the colleges annual gala, Monday, June 10, 2013 at Cipriani 42nd Street. Cocktails start at 7:00 pm, followed by dinner at 8:00 pm.
FIT is extremely fortunate to have three outstanding honorees this year, said Dr. Joyce F. Brown, president of FIT. Each brings a wealth of experience, expertise, and creativity to their respective fields. George Kaufman is not only a visionary in real estate and the film industry, but a longtime and very dear friend of the college. Kay Krill is a successful business leader who has imbued ANN INC., the parent Company of Ann Taylor and LOFT, with both a sense of style and purpose, and Stefano Tonchi transforms every publication he edits with his bold, imaginative point of view.
Tony Bennett, a longtime family friend, will present George Kaufman with his award. Supermodel Karolina Kurkova will present Kay Krill with her award, and actress Jessica Chastain will present to Stefano Tonchi. The gala will showcase a video installation titled Orbit Art Work by Jennifer Steinkamp.
The galas chairs are Pamela Baxter, president and CEO, LVMH Perfumes and Cosmetics; Joy Herfel Cronin, group president, menswear and children's wear, Ralph Lauren; Julie Greiner, chief merchandise planning officer, Macy's, Inc.; Yaz Hernandez, trustee, FIT Board of Trustees; Jane Hertzmark Hurdis, global brand president, Este Lauder; and Liz Peek, chair, FIT Board of Trustees.
The gala honorary committee includes Reem Acra, Giorgio Armani, Dennis Basso, Edmundo Castillo, Maria Cornejo, Francisco Costa, Peter Dundas, Tom Ford, Monique Lhillier, Gilles Mendel, Narciso Rodriguez, Ralph Rucci, Angel Sanchez, Jill Stuart, Isabel and Ruben Toledo, and Vera Wang.
Guests expected to attend include Dr. and Mrs. Jay Baker, Jeffrey Banks, Noreen Buckfire, Catherine Cahill, Christina Davis, Alber Elbaz, Mr. and Mrs. Peter Gregory, Miss America 2013 and FIT student Mallory Hytes Hagan, Stan Herman, Steven Kolb, Lawrence Leeds, Mr. and Mrs. Richard LeFrak, Kamie Lightburn, Jacqui Lividini, Terry Lundgren, The Hon. and Mrs. Earle Mack, Julie Macklowe, Lisa Perry, Mr. and Mrs. Wilbur Ross, Jack and Susan Rudin, Joan Smalls, Topsy Taylor, and Mr. and Mrs. John Veronis.
Also attending will be some of FIT's top Fashion Design, Class of 2013 graduates. All were award winners. Thaiana Cruz (children's wear), Sijeo Kim (knitwear), Jae Lee (sportswear), Carly Rosenbrook (sportswear), and Trung Vu (special occasion) received Critics Awards. Emily Levine won a Best Use of Cotton Award from Cotton, Inc.
The FIT annual gala benefits the FIT Educational Development Fund, which provides scholarship, technology, and student services support, among other priorities.
Among those honored in previous years are William P. Lauder, executive chairman, The Este Lauder Companies Inc. and William T. Dillard III, vice president, Dillards, Inc. (2012); Thomas M. (Tim) Belk, Jr., chairman and chief executive officer, Belk Inc. and John R. (Johnny) Belk, president and chief operating officer, Belk, Inc. (2011); Terry J. Lundgren, chairman, president, and chief executive officer, Macy's, Inc. (2010); Stephen I. Sadove, chairman and chief executive officer, Saks Incorporated (2009); Roger N. Farah, president, COO and director, Ralph Lauren (2005); Sy Stewart, limited partner, Barington Capital Group, Vera Wang, chairman and CEO, Vera Wang Inc., and Mark Weber, president and COO, Phillips-Van Heusen Corporation (2004); Bill Blass, late CEO of Bill Blass, Ltd., and Liz Smith, newspaper columnist (2003); and Cathleen Black, president, Hearst Magazines and Ronald Frasch, chairman and CEO, Bergdorf Goodman (2000).
---
ABOUT THE 2013 GALA HONOREES

George S. Kaufman is a New York-based real estate developer, civic leader, and philanthropist. As a member of the Board of Trustees of the Fashion Institute of Technology (FIT), Kaufman is serving a fourth term.
Kaufman is chairman of New York's Kaufman Astoria Studios, the filmmaking center located in Long Island City, Queens that he transformed into The Production Center of New York. Efforts by Kaufman and his studio management team play a central role in bringing feature film and television productions to New York City.
Prominent in the New York real estate community, Kaufman is chairman of the Kaufman Organization, which, for more than a century, has owned, managed, and developed commercial and residential properties in the New York area. According to Crain's New York Business, the Kaufman Organization is the 23rd largest independent real estate company in New York City.

A long-time supporter of FIT, Kaufman and his wife Mariana were honored for their $4 million gift which helped transform a former book bindery and office building located at 406 West 31st Street into a 320,000 square-foot residence hall for FIT students. The addition of the George S. and Mariana Kaufman Residence Hall, which opened in 2006 and houses 1,100 students in 497 private suites, doubled the colleges student housing space, helping to ease a shortage of on- campus housing.
Kaufman earned his undergraduate degree from Ohio State University and his master's degree from New York University.
In addition to his involvement with FIT, Kaufman is chairman of the board of the Fashion Center Business Improvement District and a member of the Real Estate Board of New York. He also is a member of the board of trustees of the Whitney Museum of American Art and the Museum of the Moving Image.

Kay Krill is president and CEO of ANN INC., the parent company of the iconic Ann Taylor and LOFT brands.
As CEO, Krill is passionate about leading a profitable and best-in-class company, but also a caring one. She has focused her efforts on putting the client first and defining the purpose of ANN INC. to inspire and connect with women to put their best selves forward every day.
ANN INC.'s purpose is realized through their cause and corporate social responsibility initiatives which focus on caring for the full lives and well-being of all women. Krill founded ANN Cares, a charitable platform that supports issues related to women, children, and the environment. To date, ANN Cares has contributed more than $25 million to charitable partners, including The Breast Cancer Research Foundation and St. Jude Children's Hospital. She is also the driving force behind the ANNpower Vital Voices Initiative, a $1.3 million program designed to train and mentor the next generation of women leaders in the United States.
A dynamic and successful entrepreneurial merchant in women's apparel, Krill has more than 30 years of experience working in the industry. She joined Ann Taylor in 1994 as merchandising vice president and was promoted to senior vice president of Merchandising in 1996. In 1999, she became executive vice president, Merchandising and Design for LOFT. In 2001, Krill was named president of the LOFT division, which she grew to a $1 billion business and was cited as one of the fastest-growing concepts in women's apparel. In 2004, she was named president as well as a member of the board of directors and in 2005, became CEO. Under her leadership, Krill has successfully re-branded Ann Taylor Stores Corp. to ANN INC. Today, Krill is focused on steadily growing the Ann Taylor and LOFT brands, as well as the company's fast-growing outlet and internet channels. Currently, ANN INC. is a $2.2 billion retailer for women of all ages.
Krill has been recognized for several years by Crain's as one of the 50 Most Influential Women in New York.
In addition to her corporate responsibilities, Krill speaks on a variety of business leadership panels throughout the year and is a board member of the National Retail Federation. A North Carolina native, she holds a BA in psychology and economics, as well as an honorary doctorate, from Agnes Scott College.

ANN INC is the parent company of Ann Taylor and LOFT, two of the leading women's specialty retail fashion brands in North America. The company operates 981 Ann Taylor, Ann Taylor Factory, LOFT, and LOFT Outlet stores in 47 states, the District of Columbia, Puerto Rico, and Canada, as well as AnnTaylor.com and LOFT.com. Visit ANNINC.com for more information (NYSE:ANN).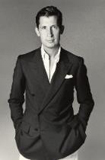 Stefano Tonchi was named editor-in-chief of W magazine in March 2010.
Previously, Tonchi created and served as editor-in-chief of T: The New York Times Style Magazine, which he introduced in 2004 after serving as style editor at the Sunday Times Magazine. Under his leadership, T increased to 15 issues annually, expanded internationally, launched a companion website, and was nominated for multiple National Magazine awards. In 2008, T was awarded Magazine of the Year from the Society of Publication Designers.
From 1998 to 2003, Tonchi was the fashion creative director for Esquire. In 2001, Esquire earned the Magazine of the Year Award from the Society of Publication Designers, as well as National Magazine Award nominations for Photography and Design. Before joining Esquire, he worked as creative director for J. Crew.
His editorship at W marks a return to Conde Nast for Tonchi, who served as Self magazines creative director from 1994 until 1996. From 1987 to 1994, he served as editor, and later, fashion director, for LUomo Vogue. At the start of his career in Italy, Tonchi co-founded and served as editor and art director for Westuff magazine, a publication that later evolved into Emporio Armani Magazine.
Tonchi has also curated a number of exhibitions devoted to style and edited several books on the intersection of art and fashion. He is the co-author of Uniform: Order and Disorder (also an exhibition at P.S. 1/MOMA), Total Living, Excess: Mainstream and Underground in the 80s (also an exhibition at The Pitti Palace in Florence), Human Game: Winners and Losers, and most recently published Walter Albini and His Time.
Tonchi graduated with a classic studies degree from Liceo Classico Forteguerri in Pistoia, Italy. He has resided in New York City since 1994.

Published by Conde Nast, a division of Advance Publications, W has a circulation of 450,000 and reaches an audience of over 1.4 million. Anchored by an oversized print magazine, W is a cross-platform brand recognized for its rich history and 40-year legacy in storytelling through fashion photography. W is transformative, predictive, risk-taking and holds a unique position at the center of fashion, film, and art.
Jennifer Steinkamp (b. 1958, Denver, CO) employs computer animation and new media to create projection installations in order to explore ideas about architectural space, motion, and phenomenological perception. Her digitally animated works make use of the interplay between actual space and illusionistic space, thus creating environments in which the roles of the viewing subjects and the art objects become blurred.
Recent solo exhibitions have been presented at the Joslyn Art Museum, Omaha (2013); Fabric Workshop and Museum, Philadelphia (2012); Museum of Contemporary Art, San Diego (2011); and a career survey curated by JoAnne Northrup, which originated at the San Jose Museum of Art in 2006 and traveled to the Kemper Museum of Contemporary Art, Kansas City and the Albright-Knox Gallery, Buffalo in 2007.
Steinkamp's work can be found in public and private collections worldwide, including ArtPace, San Antonio; The Chrysler Museum of Art, Norfolk; Centro de Arte Contemporaneo de Malaga; Corcoran Gallery of Art, Washington DC; Istanbul Museum; Minneapolis Institute of Arts; Museum of Contemporary Art, Los Angeles; Museum of Contemporary Art, North Miami; Museum of Fine Arts, Houston; North Carolina Museum of Art, Raleigh; and San Jose Museum of Art, among others.
Lehmann Maupin has represented Jennifer Steinkamp since 2003. In July 2013, the artist will have her first solo exhibition in Hong Kong at Lehmann Maupin, Hong Kong, on view from July 25 through September 7, 2013. The artist lives and works in Los Angeles, California.
ORBIT ART WORK:
Orbit is a digital animation depicting a year through the changing of four seasons, creating an endless three and a half minute loop. The shift in leaf colors and the motion of various fictional trees indicate the seasonal transitions. The title of the work references an orbital path, the motion of a planet around a star that determines a year.
ABOUT FIT:
The Fashion Institute of Technology, a college of the State University of New York, has been a leader in career education in art, design, business, and technology for nearly 70 years. With a curriculum that provides a singular blend of hands-on, practical experience, classroom study, and a firm grounding in the liberal arts, FIT offers a wide range of outstanding programs that are affordable and relevant to today's rapidly changing industries. Internationally renowned, FIT draws on its New York City location to provide a vibrant, creative community in which to learn. The college offers more than 45 majors and grants AAS, BFA, BS, MA, MFA, and MPS degrees, preparing students for professional success and leadership in the global marketplace.
ABOUT THE FIT FOUNDATION:
Started in 1944, when apparel industry leaders obtained a charter to establish a fashion institute of design and technology, the Fashion Institute of Technology Foundation was created to nurture and educate the future leaders of the fashion industry.
Today, the FIT Foundation serves as an advisory and fundraising body to FIT. Board members, who include today's leaders and innovators, serve on panels and appear as special lecturers, enabling students to meet outstanding representatives from the fields of industrial production, labor, design, merchandising, and the arts. The special relationship between the college and foundation creates valuable opportunities to share knowledge and experience.