June 25, 2013
It was an afternoon of celebration as FIT president, Dr. Joyce F. Brown, and Dr. Giacomo M. Oliva, vice president for Academic Affairs, presented the 2013 Faculty Awards.
SUNY CHANCELLORS AWARDS FOR EXCELLENCE

The SUNY system recognizes individuals who embody SUNY's highest standards and serve as role models for the rest of the community.
SUNY Chancellor's Awards for Excellence in Librarianship
Karen Cannell, head of Special Collections and FIT Archives, Gladys E. Marcus Library, is responsible for preserving the colleges unique collection of archives, manuscripts, and rare books. Through her many creative initiatives, Karen Cannell has helped enhance the colleges and library's profile.
SUNY Chancellors Awards for Excellence in Teaching
Daniel Benkendorf, assistant professor, Social Sciences, School of Liberal Arts, who serves as department coordinator for the psychology minor, is credited for the remarkable growth of the discipline on campus.
Lori Massaro, associate professor, Fashion Merchandising Management, Jay and Patty Baker School of Business and Technology, was lauded for her technological expertise, curricular innovation, leadership skills, and energetic focus on students.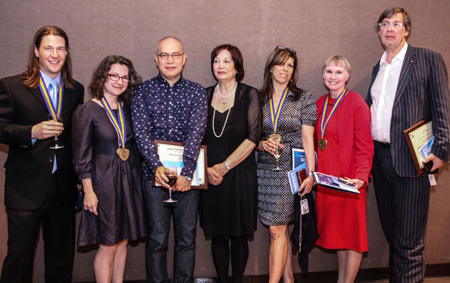 FIT Faculty Award Winners (l. to r.): Daniel Benkendorf; Melissa Tombro; Kam Mak; Sandra Markus; Lori Massaro; Karen Cannell; Johannes Knoops
Melissa Tombro, assistant professor, English and Speech, School of Liberal Arts, was recognized for enriching the English and Speech curriculum through the use of creative classroom and online strategies that encourage students to overcome their fear of self-expression, leading them to reach their potential as writers.
2013 FIT FACULTY AWARDS
Presented annually to faculty members who demonstrate outstanding teaching and commitment to student learning, exemplary research, scholarship or creative activity, or exceptional service to students and the college, the FIT faculty award-winners each received a $1,000 prize.
FIT Presidents Award for Faculty Excellence
Sandra Markus, associate professor, Fashion Design, School of Art and Design, was praised for bringing technology to the forefront for Fashion Design, with frequent peer-to-peer workshops, CET presentations, and the School of Art and Designs summer Digital Spa, which she initiated and developed.
2013 FIT Faculty Excellence Award
Johannes Knoops, assistant professor, Interior Design, School of Art and Design, was credited for rewriting the departments curriculum and refreshing the Lawrence Israel Prize Lecture. He was cited as a well-regarded educator, a valuable industry resource, and a leader of dynamic initiatives.
Kam Mak, professor, Illustration, School of Art and Design, who is currently designing a 12-year Lunar New Year stamp series for the U.S. Postal Service, has established FIT's permanent web-based archive for all student work in the Illustration Department.