July 09, 2013
Harriet Korman, an adjunct professor of Fine Arts at the Fashion Institute of Technology (FIT), has been awarded a 2013 Guggenheim Fellowship in the category of Creative Arts, part of the Fine Arts field of study. The respected painters fellowship officially began on July 1.
Korman joined FIT's faculty in September 1989. She teaches drawing and painting.
Guggenheim Fellowships are awarded to artists who have demonstrated an exceptional capacity for productive scholarship or an exceptional ability in the arts. Korman will use the $40,000 grant to continue her exploration of color and texture in her geometrically abstract paintings.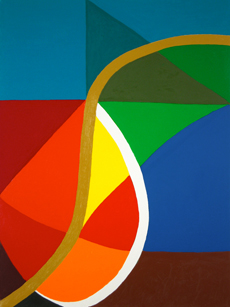 Korman's work has appeared in numerous group and solo exhibitions. She has appeared in the Whitney Museums Biennial of Contemporary Art and at the MoMA P.S. 1 Contemporary Art Center. She showed her most recent work at Lennon, Weinberg Gallery, located in Chelsea, in 2012.
Korman's art also has been featured in numerous exhibition catalogs and publications, including Art: A Woman's Sensibility, Painting from the Minds Eye, and Three Approaches to Abstraction.
Korman received a full scholarship to the Skowhegan School of Painting and Sculpture in Skowhegan, Maine, in 1968, and graduated from CUNY's Queens College a year later.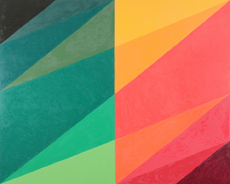 Korman celebrated her award at an intimate cocktail reception held by the foundation, alongside former recipients who received their fellowships in the corresponding decennial years.
The John Simon Guggenheim Memorial Foundation, established in 1925, offers fellowships to further the development of scholars and artists by assisting them to engage in research in any field of knowledge and creation in any of the arts, under the freest possible conditions and irrespective of race, color, or creed. Approximately 200 Fellowships are awarded each year.
The Fine Arts program at FIT offers an education to those seeking a career in the applied arts. Classes are taught in a hands-on studio environment by working artists, and the curriculum covers a wide range of creative possibilities, from traditional media to 3D design and multimedia. Out-of-classroom opportunities include internships, guest lectures, panel presentations, trips to regional museums and art events, and a study abroad program in Florence, Italy.
FIT is a State University of New York (SUNY) college of art, design, business, and technology that has been at the crossroads of commerce and creativity for nearly 70 years. With programs that blend hands-on practice, a strong grounding in theory, and a broad-based liberal arts foundation, FIT offers career education in more than 45 areas, and grants associate, bachelor's, and master's degrees. FIT provides students with a complete college experience at an affordable cost, a vibrant campus life in New York City, and industry-relevant preparation for rewarding careers.