January 17, 2013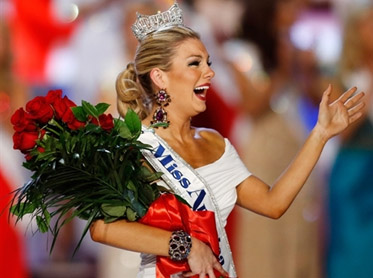 Mallory Hagan, an Advertising and Marketing Communication AAS student, has been crowned Miss America 2013.
Ms. Hagan, a native of Alabama who now lives in Brooklyn, was New York State's entry into the contest.
Ms. Hagan ran on a platform of preventing child sexual abuse and won against 52 other young women for a $50,000 scholarship. She plans to use her scholarship to continue her education at FIT and hopes to ultimately pursue a degree in our Cosmetics and Fragrance Marketing program.
Join us for the Miss New York Organization's official Homecoming Show celebrating FIT's own Miss America, Mallory Hagan, on March 16.
The show will feature Ms. Hagan, runners-up from this year's pageant, former Miss Americas and Broadway performers.
Saturday, March 16, 7:30 pm
Haft Theatre, Marvin Feldman Center
Tickets available online and at the door. The FIT community should check their email for ticket information.