October 16, 2012
Cheri Fein, executive director of Public and Media Relations
Through a $100,000 gift to the Fashion Institute of Technology (FIT), an endowed scholarship has been established by cosmetics executive Leslie Blodgett, creator of bareMinerals and executive chairman of Bare Escentuals. Blodgett is a 1985 graduate of FIT's Cosmetics and Fragrance Marketing program.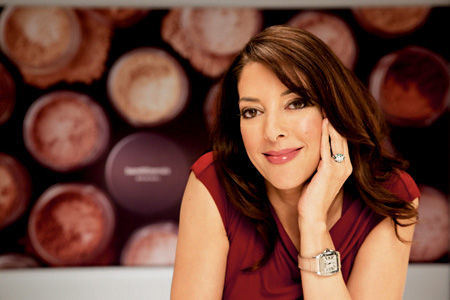 The
Leslie Blodgett Endowed Scholarship
will provide financial assistance to students in any major field of study offered through FIT's Jay and Patty Baker School of Business and Technology. It will be awarded annually to an upper-division student who has been selected by the dean of the Baker School and the Office of Financial Aid. The student must be in the colleges upper division, have a minimum grade point average of 3.0, be a U.S. citizen or legal resident, and have demonstrated financial need. The first scholarship will be awarded in July 2013.
As an internationally renowned educational leader for the fashion industry and related design fields, FIT sees in Leslie Blodgetts remarkable personal and professional success story a theme that resonates with our students and the industries we serve, said Dr. Joyce F. Brown, president of FIT. We believe that her story can inspire and motivate others to follow their dreams and, in the process, further strengthen the professions that the college serves. And this gift will provide our talented students with the essential support and encouragement they need. We are so very proud that Leslie is one of our own.
The Fashion Institute of Technology opened many doors for me when I was a student just starting out in the cosmetic industry, said Leslie Blodgett. I am so thrilled to be able to support the talented students who will one day be leaders in the world of fashion and beauty."
Leslie Blodgett was recognized by
Inc. Magazine
in 2010 as one of the Top Entrepreneurs of the Decade: 2000-2009. Blodgett became CEO of Bare Escentuals in 1994, transforming it into one of the country's leading prestige cosmetics companies with the launch of bareMinerals, an award-winning line of mineral-based products. In 1997, Blodgett began marketing bareMinerals on QVC, where it became the networks best-selling brand. Bare Escentuals went public in 2006 and was acquired by Shiseido in 2010 in one of the largest cosmetics mergers in history.
Blodgett is on the board of directors of the Stella & Dot accessories company and Cosmetic Executive Women (CEW). CEW presented her with its first Achiever Award in 2006 for her contributions to the industry and honored her in 2009 at its annual Beauty of Giving luncheon.
The Jay and Patty Baker School of Business and Technology serves more than 4,000 students in majors that focus on business in fashion and its related professions. Students gain high-level communication skills and creative problem-solving abilities that are critical in today's competitive global marketplace, while also mastering the advanced technologies necessary for success.
FIT is a leader in career education in art, design, business, and technology, with a wide range of programs that are affordable and relevant to today's rapidly changing industries. Part of the State University of New York, the college offers more than 45 majors leading to the AAS, BFA, BS, MA, MFA, and MPS degrees.