October 04, 2012
Cheri Fein, executive director of Public and Media Relations
FIRST CLASS OF DESIGN ENTREPRENEURS NYC
COMPLETES PROGRAM AT FIT

Participants Present Business Plans to Panels of Executives
Three Designers Selected to Receive Additional Pro Bono Consultations

The first class of Design Entrepreneurs NYC (DENYC), the free, intensive, mini-MBA program that teaches emerging New York City-based fashion designers how to run a business, culminated with presentations of business plans by 15 of the 35 designers who participated in the program. The event took place at the Fashion Institute of Technology (FIT) on September 20. DENYC was launched by the New York City Economic Development Corporation (EDC) and FIT.

Three panels of business and banking executives heard and commented on five plans each. Three designers were then selected by the executives to receive additional mentoring to further refine their plans and continue to learn how to successfully run a design business.

The selected designers were women's ready-to-wear designer Mimi Plange, Hippototamus children's wear designer James Talbot, and Jes Wade, whose women's collection is handcrafted in house exclusively for private clients. Each will receive two sessions in consumer brand support from Ari Bloom and five pro bono hours of legal support from Charles Klein. Bloom works closely with creative entrepreneurs to develop innovative consumer concepts and to establish sustainable businesses around them. He is an advisor to the CFDA Fashion Incubator and has advised such brands as Chris Benz, Richard Chai, and Steven Alan. Klein is a partner at Davidoff Hutcher & Citron LLP, specializing in corporate licensing and litigation matters for the fashion industry. He is an active member of the fashion law community, having founded the Fashion Roundtable and the Fashion Service Network.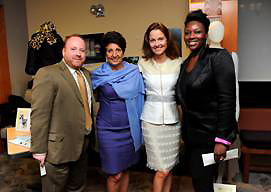 Photo of James Talbot, Jeanette Nostra, Jes Wade, and Mimi Plange
Photo by Jerry Speier
Seth Pinsky, president of the EDC, gave opening remarks. Dr. Joyce F. Brown, president of FIT, and Jeanette Nostra, DENYC executive-in-residence and president of G-III Apparel Group, closed the event. Panel moderators were Steven Frumkin, dean, FIT's Jay and Patty Baker School of Business and Technology; Nostra; and Yolanda Wardowski, MD Avalon Group and DENYC advisor/instructor.

The panel of industry executives that selected Mimi Plange included Jay Margolis, investor and former chief executive officer, Reebok; Ellen Rodriguez, president and chief executive officer, French Connection; Edwin Goodman, FIT trustee, and partner and co-founder, Milestone Venture Partners; and Robin Burns-McNeill, vice chair, FIT Board of Trustees, and chair and co-founder, Batallure Beauty.

James Talbot was named by Simon Dallimore, chief executive officer, Dallimore & Co.; Tim Baxter, executive vice president, Macy's; Morris Goldfarb, chief executive officer, G-III Apparel Group; and Jonathan Duskin, chief executive officer, Macellum Capital Management, and director, Wet Seal.

Jes Wade was chosen by Lisa Schultz, executive vice president-Design, Sears Holdings Corporation; Bob Mahan, management consultant, Kaufman Franco; Gail Cook, president and chief executive officer, Gail Cook & Co.; and Renaud Dutreil, chairman, LVMH USA.

In addition to the presentations, there was a display of designs by all 35 program participants.

The 35 designers who participated in DENYC span a wide range of fashion categories including accessories, jewelry, children's wear, men's apparel, and women's apparel. They studied throughout the world, including Canada, Italy, Ireland, and Turkey, though the majority come from New York City schools, including Columbia, FIT, NYU, and Parsons. To participate, designers were required to have New York City-based companies that have been in business for at least one year; the majority of the selected participants have been in business for fewer than four years.

Design Entrepreneurs NYC is one of six initiatives that resulted from Mayor Bloomberg's Fashion.NYC.2020 plan, which is designed to sustain and grow the fashion industry in New York. The fashion industry employs 173,000 people in New York City, accounting for 5.7 percent of the city's workforce, and generating nearly $2 billion in tax revenue annually. In addition, the city is home to one of the worlds largest wholesale fashion markets, which attracts more than 500,000 visitors a year to its trade shows, showrooms, and retail stores. The Fashion.NYC.2020 initiatives address the industry's challenges in two ways: by further positioning the city as a hub of innovation for emerging designers as well as specialty and multi channel retail, and by attracting the next generation of design, management and merchant talent. The industry chairs for Fashion.NYC.2020 are Richard Darling, CEO of LF USA; Diane von Furstenberg, chairman and founder, Diane von Furstenberg Studio L.P., and president, Council of Fashion Designers of America; Terry Lundgren, chairman, president and CEO of Macy's, Inc.; Andrew Rosen, CEO of Theory; and Kevin Ryan, CEO of Gilt Groupe.

For more information about Design Entrepreneurs NYC, visit designentrepreneursnyc.com.

About NYCEDC
New York City Economic Development Corporation is the city's primary vehicle for promoting economic growth in each of the five boroughs. NYCEDCs mission is to stimulate growth through expansion and redevelopment programs that encourage investment, generate prosperity and strengthen the city's competitive position. NYCEDC serves as an advocate to the business community by building relationships with companies that allow them to take advantage of New York Citys many opportunities. Find us on Facebook to learn more about NYCEDC projects and initiatives.

About FIT
The Fashion Institute of Technology, a part of the State University of New York, has been a leader in career education in art, design, business, and technology for nearly 70 years. With a curriculum that provides a singular blend of hands-on, practical experience, classroom study, and a firm grounding in the liberal arts, FIT offers a wide range of outstanding programs that are affordable and relevant to today's rapidly changing industries. Internationally renowned, FIT draws on its New York City location to provide a vibrant, creative community in which to learn. The college offers more than 45 majors and grants AAS, BFA, BS, MA, MFA, and MPS degrees, preparing students for professional success and leadership in the global marketplace.
FIT alumni have attained top positions in industry. Among notable alumni in fashion are Calvin Klein, Reem Acra, Francisco Costa, Norma Kamali, Nanette Lepore, and Ralph Rucci. Other prominent graduates include Leslie Blodgett, executive chairman of Bare Escentuals; international restaurant designer Tony Chi; Edward Menicheschi, vice president and publisher of Vanity Fair; and Joe Zee, creative director of Elle.