November 05, 2012
Free and Open to the Public
Mira Schor is a New York-based artist, writer, editor, and educator with expertise in contemporary art, the history of modern painting, artists' writings, and feminist art and art history. The representation of language in drawing and painting is a focus of her work.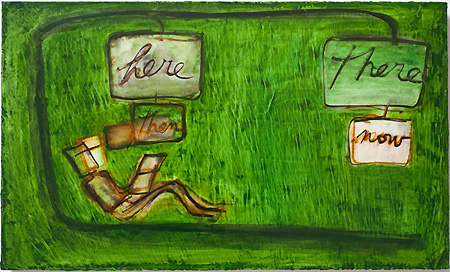 Here/Then, There/Now, 2011.Ink, oil and gesso on linen, 18"x30

Schor is the editor of The Extreme of the Middle: Writings of Jack Tworkov (Yale University Press), the author of Wet: On Painting, Feminism and Art Culture, and the co-editor, with artist Susan Bee, of M/E/A/N/I/N/G: An Anthology of Artists' Writings, Theory, and Criticism (both Duke University Press). She has had solo exhibitions in New York at the Edward Thorp Gallery, the Horodner Romley Gallery, and Momenta Art. Her work has also been exhibited at the Santa Monica Museum, the Armand Hammer Museum, and the Neuberger Museum, among others. Schor was awarded a 2009 Creative Capital/Warhol Foundation Arts Writers Grant to develop A Year of Positive Thinking, a blog on contemporary art, launched in 2010.

This program has been made possible in part through funding by the FIT Student-Faculty Corporation, the School of Art and Design, and the School of Liberal Arts.
Tuesday November 27, 2:30 3:30 pm
Free and Open to the Public
FIT
Katie Murphy Amphitheatre
Fred P. Pomerantz Art and Design Center
Seventh Avenue at 27th Street