November 05, 2012
Cheri Fein, executive director of Public and Media Relations
Jennifer Ahern, a sixth-semester student majoring in Packaging Design, has won the grand prize in Project Carton, a contest sponsored by Evergreen Packaging. Citing Picasso as her inspiration, Ahern designed a milk carton featuring abstract cow images.
More than 24 Packaging Design students competed to create new eco-friendly beverage cartons. The winners were announced at a VIP reception on October 28 during the packaging industry's annual PACK EXPO International trade show in Chicago.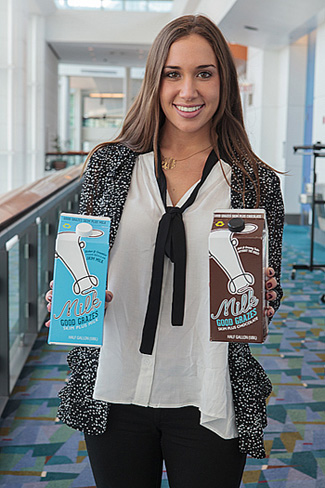 The goal of Project Carton was to show how paper containers provide an opportunity for brands to communicate their environmental awareness to customers. I wanted to design something that the customer would be attracted to, Ahern said. Our generation can be careless, but more people are starting to pay attention to the green movement, so sustainability programs like the one Evergreen promotes are very important to the future.
Judges were Erin Reynolds, marketing director, Evergreen Packaging, and industry experts Ron Sasine, senior director of packaging, Wal-Mart; Marcus Hewitt, chief creative officer, Dragon Rouge; Lynn Dornblaser, director of innovation and insight, Mintel; Noel Stewart, senior packaging engineer, Coca-Cola North America, and Andy Yates, design director, WhiteWave Foods.