November 29, 2012
The School of Graduate Studies at the Fashion Institute of Technology (FIT) presented a symposium on Diversity and Globalization in the Beauty Industry on Friday, November 16, at FIT. Leaders from top beauty corporations discussed how diversity and globalization are transforming business strategies for companies and consumers.
The symposium was the first of a series to be presented by the School of Graduate Studies. These symposia will provide a forum for an enlightening and critical exchange of ideas and creative works founded in the research undertaken by the colleges students and faculty, said Dr. Mary E. Davis, dean of the School of Graduate Studies.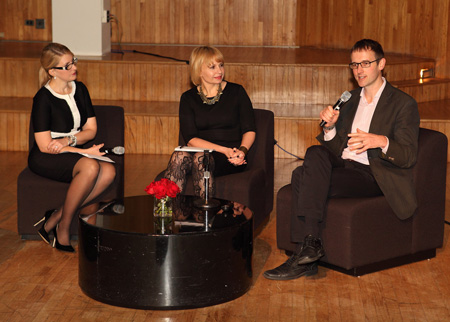 Left to Right: Interviewers Alexandra Fritsch-Gil, FIT MPS Class of 2012, Marketing Manager, Bumble & Bumble, The Estée Lauder Companies and Ildiko Juhasz, FIT MPS Class of 2012, Marketing and Training Manager, Acqua di Parma, LVMH Fragrance Brands with Special Guest Mark Davis, Director, Community and Ethical Trade, The Body Shop International PLC.
Stephan Kanlian, chair of the Master of Professional Studies program in Cosmetics and Fragrance Marketing and Management, introduced the keynote speaker, Antoinette (Tonie) Leatherberry, principal for Deloitte Consulting LLP. Leatherberry serves as Northeast practice leader for Information Management and Business Analytics and chaired Deloitte's Diversity and Inclusion Committee. She observed that companies must focus on inclusion in their behaviors, policies, and philosophies in order for all stakeholders to achieve their full potential. She cited FIT's Cosmetics and Fragrance Marketing and Management capstone 2012 research project on Diversity and Globalization for its cutting-edge explorations in areas including marketing, product innovation, and corporate governance. Full copies of the student white papers are available at fitnyc.edu/cfmm.
Following the keynote speech, a panel of industry and student representatives discussed globalization business trends in the beauty field. They noted that businesses and brands are moving away from the one-size-fits-all concept and engaging in more one-on-one communication with consumers. You can't have a viable business in beauty without talking with the consumer, said Cheryl Wilson, director, Global Business Development Ethnic Hair Care, Unilever. Nicholas Gavrelis, vice president, Global Product Development, MAC Cosmetics, The Este Lauder Companies, added that a boots on approach, involving physical interaction with local markets, is also an integral part of successful global business practices. Ursula Wynhoven, general counsel, United Nations Global Compact Office, and Alexandra Fritsch-Gil, marketing manager, Bumble and Bumble, The Este Lauder Companies, who is also a graduate of the Cosmetics and Fragrance Marketing and Managements class of 2012, rounded out the panel.
An interview with Mark Davis, director, Community Fair Trade, The Body Shop International, focused on ethical trade and the ways that fair trade practices become a mutual relationship among consumers, companies, and suppliers. Companies that compensate suppliers fairly give people the power to control their own lives and be what they can be, Davis said. Consumers who buy products specifically from companies that institute fair trade practices and protect the environment can change things globally, and have an impact on a corporations bottom line, he continued.
This free public event was supported by a grant from the FIT Diversity Council, which was established by FIT President Dr. Joyce Brown. Related research and video highlights will be available on FIT's website:fitnyc.edu/graduatesymposium.
FIT is a leader in career education in art, design, business, and technology, with a wide range of programs that are affordable and relevant to today's rapidly changing industries. Part of the State University of New York, the college offers more than 45 majors leading to the AAS, BFA, BS, MA, MFA, and MPS degrees.