March 22, 2012
Cheri Fein, executive director, Public and Media Relations
NEW YORK CITY POLICE FOUNDATION ANNOUNCES WINNERS OF FIT STUDENT DESIGN CONTEST
March 22, 2012, New York, NY The New York City Police Foundation (The Foundation), an independent, non-profit organization that supports the services of the NYPD by providing essential resources that are not otherwise readily available to the department, has announced the winning designs for a contest they sponsored for students at the Fashion Institute of Technology (FIT) in New York City. The design competition gave FIT students the opportunity to create new, unique products for The Foundation that reflect the slogan Invest in a Safe City.
Frank Cuomo, a Fashion Merchandising and Management major, took first place. Jing Cui, an Illustration major, won second place. Amanda Schrenkel, a Technical Design major, won third place. There is a possibility that some or all of their designs will be produced and sold in select city stores. Final judging was determined by a board comprised of representatives from The Foundation and city merchandisers.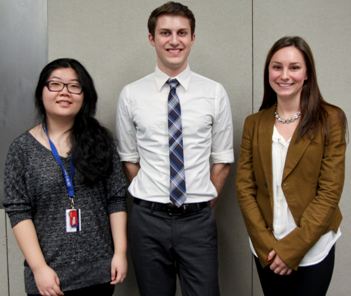 FIT Student Contest Winners (L to R): Jing Cui (2nd place), Frank Cuomo (1st place) and Amanda Schrenkel (3rd place)
Photo by Smiljana Peros/Courtesy of FIT
We are thrilled to have had the opportunity to work with such talented students whose efforts will unquestionably support the NYPD and the New York City Police Foundation, stated Susan Birnbaum, President and CEO of the New York City Police Foundation.
This contest gave our students the opportunity to create designs for merchandise that raises funds for an important cause, said Joanne Arbuckle, dean, School of Art and Design at FIT. The students designs reflect the cause while also expanding the type of merchandise currently available for sale.
The New York City Police Foundation is an independent, non-profit organization established in 1971 by business and civic leaders to support programs connected with the NYPD that cannot otherwise be readily funded. The Foundation sponsors programs such as Crime Stoppers, the International Liaison Program and 1-800-GUN-STOP in addition to sponsoring specialized counterterrorism training and stress and trauma counseling for police officers.
The Fashion Institute of Technology, a part of the State University of New York, has been a leader in career education in art, design, business, and technology for nearly 70 years. With a curriculum that provides a singular blend of hands-on, practical experience, classroom study, and a firm grounding in the liberal arts, FIT offers a wide range of outstanding programs that are affordable and relevant to today's rapidly changing industries. Internationally renowned, FIT draws on its New York City location to provide a vibrant, creative community in which to learn. The college offers more than 45 majors and grants AAS, BFA, BS, MA, MFA, and MPS degrees, preparing students for professional success and leadership in the global marketplace.