March 23, 2012
Cheri Fein, executive director, Public and Media Relations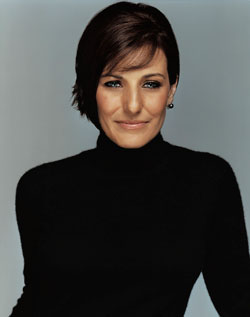 Fashion industry executive Jaqui Lividini has been appointed to the Board of Trustees of the Fashion Institute of Technology (FIT). Lividini, who was sworn in on January 19, 2012, will serve for a term that ends June 30, 2017. She was appointed by FIT's local sponsor, the New York City Department of Education, through the Panel for Educational Policy.
An FIT alumna, Lividini is the CEO and founder of Lividini & Co., which specializes in developing, elevating, and repositioning brands within the marketplace. Throughout its six years, the firm has represented many of the leading brands in the fashion industry, including Coach, Liz Claiborne, Lord & Taylor, Polo Ralph Lauren, Saks Fifth Avenue, the Natori Company, Juicy Couture, and Godiva.
Jaqui Lividini is one of the foremost brand experts in the luxury retail and fashion industries. We are proud that she studied advertising and marketing communications at FIT and are pleased to welcome her back as a new member of our board, said Edwin Goodman, chairman of the Board of Trustees.
Among Lividini's most significant accomplishments are her assistance in the revitalization of the Lord & Taylor brand and store; the development of the Josie Natori brand and the introduction of its ready-to-wear collection; the creation of an international philanthropic initiative for Godiva; and her work at Saks Fifth Avenue, where she began her career.
Lividini rose through the executive ranks at Saks to become senior vice president of fashion merchandising and communications. She led a team that was responsible for creating and communicating the fashion and brand image for the stores and the online and catalog retailing business. She also managed all business communications for Saks, including its announcement in 1996 to become a publicly traded company.
While at Saks, Lividini also developed philanthropic activities. In 2002, she created a charitable campaign for the company, Key to the Cure, which benefits cancer research. Under Lividini's leadership, Saks raised more than $15 million within a four-year period and was recognized with humanitarian awards from the Council of Fashion Designers of America and Fashion Group International. Key to the Cure is still raising significant funds today.
Philanthropic activities continue to be prominent in Lividini's life. She is the board chair and former dinner co-chair for Women In Need, Inc., an organization that provides housing for homeless New York City women and their families. She also serves on the board of directors of Fashion Group International. By New York State law, FIT is governed by its own 16-member Board of Trustees, which is charged with the administration of the institution and support of its mission. The board is comprised of eight trustees appointed by FIT's local sponsor, the New York City Department of Education, through the Panel for Educational Policy; seven appointed by the Governor of the State of New York; and one student trustee.
Lividini joins board members Edwin A. Goodman, chair; Elizabeth T. Peek, vice chair; Amsale Aberra; Richard A. Anderman; Jay H. Baker; Robin Burns-McNeill; Judith I. Byrd; Yaz Hernndez; Joan B. Hornig; George S. Kaufman; Beverly S. Mack; Chris Casson Madden; Deirdre Quinn; Robert Savage; and Samantha Kloeckener, student trustee.
FIT, whose president is Dr. Joyce F. Brown, is a leader in career education in art, design, business, and technology, with a wide range of programs that are affordable and relevant to today's rapidly changing industries. Part of the State University of New York, the college offers more than 45 majors leading to the AAS, BFA, BS, MA, MFA, and MPS degrees.