July 10, 2012
Cheri Fein, executive director of Public and Media Relations
Five students who graduated with BFA degrees from the Fashion Institute of Technology's (FIT) Fashion Design program with the Politecnico di Milano in Milan presented their collections at a runway show and concert titled Armonie (Harmony), held on May 29 at the Hospitale dei Pellegrini. Students from the Conservatorio di Milano played classical music and jazz. FIT President Joyce F. Brown attended and addressed the students.
The FIT students presented garments in either the children's wear or sportswear specialization. Throughout the semester, they worked closely with design faculty and an industry critic to formulate concepts and create a capsule collection. The majority of the fabrics used were donated by Cittadellarte Fashion B.E.S.T., an operative workshop dedicated to the development of sustainable textiles. The organization featured the show on its website, http://www.cittadellarte.it/readnews.php?id=728. The students also designed printed textiles in the Politecnico studios in Como.
Students specializing in sportswear were Kellie Lamkin (who designs under the name Luciana Grimaldi), Mariko Sakuma McNeill, Jolie Mittleman, and Jacqueline Ramis. Meghan McGuffin presented the children's wear specialization.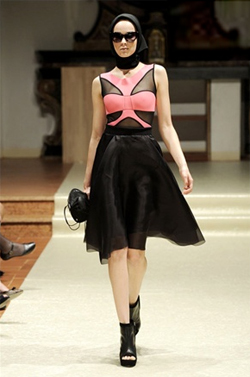 Neon pink neoprene and black mesh bathing suit with black organza circle skirt by Kellie Lamkin, who designs under the name Luciana Grimaldi.
Press coverage included a story on the website of Vogue Italia, under the heading, Talents. The piece can be found at http://www.vogue.it/talents/neodiplomati/2012/06/fit-milan-graduate-collections.
FIT and the Politecnico di Milano began its collaborative agreement in 2007. FIT students reside in Milan for one or two years, studying integrated courses at the Politecnico di Milano. Academic activities off-campus include visits to tradeshows, production sites, museums, exhibitions, and design studios. Trips to various Italian regions provide an introduction to the country's history, artisan skills, and technical expertise. As part of the exchange agreement, a select group of Politecnico di Milano students attend FIT in New York, where they participate in a capstone exhibition displaying garments and photos.