July 30, 2012
Cheri Fein, executive director of Public and Media Relations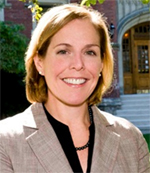 Dr. Mary E. Davis has been appointed dean of the School of Graduate Studies at the Fashion Institute of Technology (FIT) in New York City,which grants Master of Arts, Master of Fine Arts, and Master of Professional Studies degrees.
Dr. Davis is responsible for providing leadership for the design, implementation, and assessment of the schools programs and curriculum; overseeing admissions and recruitment; and participating in college-wide strategic planning. Dr. Davis also serves as a member of the Deans Council.
Programs in FIT's School of Graduate Studies include Art Market: Principles and Practices; Exhibition Design; Fashion and Textile Studies: History, Theory, Museum Practice; Sustainable Interior Environments; Cosmetics and Fragrance Marketing and Management; Global Fashion Management; and Illustration.
A scholar, teacher, administrator, and author specializing in the cross-disciplinary studies of music, fashion, and culture, Dr. Davis comes to FIT from Case Western Reserve University in Cleveland, where she was chair of the music department. As associate director of the university's Baker-Nord Center for the Humanities, she created public programs and oversaw scholarly initiatives focused on the humanities, and as director of the Culture, Creativity and Design Interdisciplinary Alliance, she advanced and attracted support for cross-disciplinary initiatives in these areas.
Dr. Davis also specializes in American popular music and rock and roll and served as advisor and university liaison to the Rock and Roll Hall of Fame and Museum, which is located in Cleveland. Working with colleagues there, she worked to develop the American Music Masters series and secured significant funding to create the Rock and Popular Music Studies Institute at Case Western Reserve.
Dr. Davis's most recent book is Ballets Russes Style: Diaghilev's Dancers and Paris Fashion. Other publications include Classic Chic: Music, Fashion and Modernism, the biography Erik Satie, and Waiting for a Train: Jimmie Rodgers's America, which she co-edited. She has organized and lectured at scholarly conferences in the U.S. and Europe on topics ranging from French modernism to rock style, and has been a regular pre-concert speaker for The Cleveland Orchestra The Cleveland Museum of Art, and the Pittsburgh Symphony Orchestra
Dr. Davis earned PhD and AM degrees in musicology from Harvard University. She holds two additional master's degrees one in musicology from the New England Conservatory of Music and the other in piano from the Peabody Institute of Johns Hopkins University. She earned her undergraduate degree from St. Mary's College in Notre Dame, IN.
We are extremely pleased to welcome Dr. Davis to FIT, said Dr. Giacomo Oliva, vice president for Academic Affairs. Dr. Davis brings a wealth of scholarship, administrative acumen, and interests that will benefit the college and our students.
FIT, whose president is Dr. Joyce F. Brown, is a leader in career education in art, design, business, and technology, with a wide range of programs that are affordable and relevant to today's rapidly changing industries. Part of the State University of New York, the college offers more than 45 majors leading to the AAS, BFA, BS, MA, MFA, and MPS degrees.