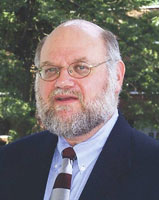 Steven Frumkin has been named dean for the Jay and Patty Baker School of Business and Technology at the Fashion Institute of Technology (FIT). Frumkin comes to FIT from the School of Business Administration/School of Textiles at Philadelphia University, where he was an associate professor and the associate director-researcher of the Laboratory for Engineered Human Protection.
This appointment marks a return to FIT for Frumkin, who was an adjunct assistant professor in the colleges Textile Development and Marketing program from 1994-2000. Abroad, he has been a visiting international expert for the National Institute of Fashion Technology, New Delhi, India; a visiting expert at the Arthur Lok Jack Graduate School of Business in the West Indies; and eminent researcher at the Shinshu University, Nagano, Japan.
Frumkin's experience combines academic achievement with business expertise in the textile and apparel industries. Prior to his post at Philadelphia University, Frumkin was senior vice president at Carleton Woolen Mills, Inc., president and general manager of hosiery company E.G.. Smith/Keepers International, and president of Nazzareno Goti USA, an international sales, marketing, and consulting organization.
Frumkin's impressive career has earned him respect and recognition both as an educator and as an industry professional, said Dr. Joyce F. Brown, president of FIT. Our students will greatly benefit from his vast knowledge and experience.
In his new position, Dean Frumkin is responsible for the leadership of the Baker School of Business and Technology, which offers a range of associate and baccalaureate programs, including Advertising and Marketing Communications and Fashion Merchandising Management, two of the colleges largest majors.
Reporting to the vice president for Academic Affairs, he is responsible for maintaining and enhancing academic standards, fostering the development of curricular offerings, and representing the college on academic, professional, and industry committees. He also oversees the colleges budgetary process and the administrative actions of department chairs, and coordinates activities to secure resources and fundraising.
Frumkin holds a BS from the Philadelphia College of Textiles and Science and an MBA in marketing from Baruch College. He expects to receive a doctorate in business administration from Argosy University in 2012.
The Jay and Patty Baker School of Business and Technology serves nearly 4,000 students in majors that focus on business in fashion and its related professions. Students gain high-level communication skills and creative problem-solving abilities that are critical in today's competitive global marketplace, while also mastering the advanced technology necessary for success.