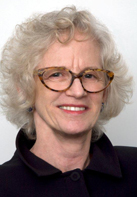 Judith Ellis, founder and chair of the Toy Design program at the Fashion Institute of Technology (FIT), has been selected as an inductee into the Toy Industry Hall of Fame.
The Toy Industry Association (TIA) announced Ellis induction, along with the late Russ Berrie of Russ Berrie & Company. Ellis will accept her award during the 13th Annual Toy of the Year (TOTY) Awards ceremony on February 9, 2013, at The Plaza Hotel in New York City.
Ellis founded the nations first baccalaureate program in Toy Design, which launched in 1989 at FIT. The program has more than 350 alumni who have designed more than 3,500 products for such companies as Hasbro, Mattel, Fisher-Price, and Crayola.
Lauded for her creativity and innovation, Ellis has received two SUNY Chancellors Awards for Excellence in Faculty Service and Excellence in Teaching, the FIT Presidents Award for Faculty Excellence, and an award from Women in Toys for her outstanding contributions to the industry. Ellis joins an impressive list of play pioneers who have been inducted into the Toy Industry Hall of Fame. These include Star Wars filmmaker George Lucas (inductee, 2007); cousins Edwin Binney and C. Harold Smith, who invented Crayola Crayons in 1903 (inductees, 2006); game maven Milton Bradley (inductee, 2004); and Frederick August Otto Schwarz, the man behind mega-toy emporium FAO Schwarz (inductee, 2012).
TIA is pleased to welcome Ms. Ellis and Mr. Berrie into the prestigious Hall of Fame, said Carter Keithley, TIA president. They join a group of industry visionaries who have revolutionized the toy industry and have had a significant impact on the lives of children the world over.
We applaud the Toy Industry Hall of Fame for adding Judy to its illustrious roster, said Joanne Arbuckle, dean of the School of Art and Design at FIT. As founder and longtime chair of our Toy Design program, Judy has been instrumental in shaping the minds and passions of toy designers. Her commitment, which is total, has done much to assist the toy industry and as a result, has brought joy to millions of children.
The Toy Industry Association (TIA) is the not-for-profit trade association representing all businesses involved in creating and bringing toys and youth entertainment products to kids of all ages. The Toy Industry Hall of Fame has recognized 59 individuals for their significant contributions to the growth and success of the toy industry since 1984. The two newest inductees were nominated from within the toy industry and selected by a vote of TIA members and previous Hall of Fame honorees.
FIT is a leader in career education in art, design, business, and technology, with a wide range of programs that are affordable and relevant to today's rapidly changing industries. Part of the State University of New York, the college offers more than 45 majors leading to the AAS, BFA, BS, MA, MFA, and MPS degrees. Visit fitnyc.edu.