Students Will Construct Their Winning Designs in Three Model Studio Apartments to Unveil in Spring 2013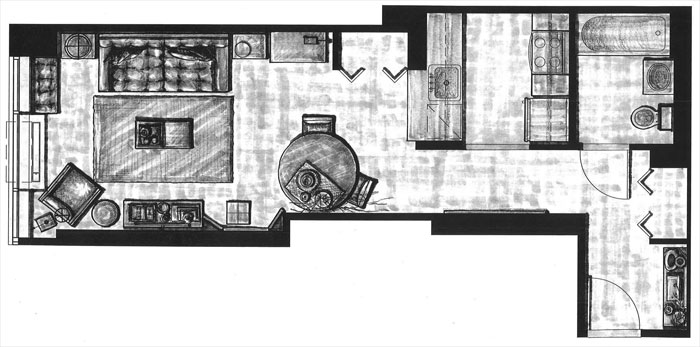 Three fifth-semester students majoring in Interior Design at the Fashion Institute of Technology (FIT) have won the Rockrose Development Corp. Model Studio Interior Design competition. Designs by Gregory Bardwell from Ossining, NY; Paola Barraza from Columbia, South America; and Katherine Stec from Queens, NY, will be installed next spring in three different model studio apartments at Linc LIC, a Rockrose residential property currently under construction in Long Island City, NY. Rockrose revealed the winners during a reception held on December 6.
Bardwell, Barraza, and Stec, who were selected from 40 entrants and 12 finalists, will collaborate with Rockrose to outfit their respective model studio apartments in the 42-story, 709-unit luxury rental high-rise. Working under real world conditions and professional guidelines, including New York City building codes and budgetary and time constraints, the project will produce actual interiors of the model apartments complete with furniture, fixtures, and finishes.
The final designs will be featured on Rockroses website and be open to more than 7,000 visitors expected to tour the apartments. Visiting guests will be asked to vote on their favorite model apartment, and a first-, second-, and third-prize winner will be announced in fall 2013.

View their designs:
We are delighted to work with the talented students at FIT for this exceptional project, said Kathleen Gargan-Scott, vice president, Marketing & Leasing, for Rockrose. Although we could choose only three winning designs, we were overwhelmed by the breadth of talent and creativity of all 12 finalists who presented their designs to us. We intend to incorporate several of their concepts in public spaces throughout Linc LIC.
Bardwell based his design on an inverted gallery, using colorful walls and artwork, and added metals and brushed iron to reflect Long Island Citys industrial feel. Stec featured a masculine decor design through a mix of leather pieces and gold and bronze accents. Barraza utilized graffiti elements in a blue, green, and white color scheme to speak to a creative, arts-oriented client.
FIT's Interior Design program, named by DesignIntelligence as one of the country's top ten interior design programs, by the website www.schoolofinteriordesign.org as among the top ten programs in the world, and by Examiner.com as the number one interior design program in New York City, has been preparing students for success for more than 50 years. This rigorous, multidisciplinary program combines the academic study of the history and theory of interior design with practical, hands-on projects. In classes taught by industry professionals, students learn drafting techniques, computer modeling, lighting, and materials and methods, with an emphasis on sustainability and user health and safety.
FIT is a leader in career education in art, design, business, and technology, with a wide range of programs that are affordable and relevant to today's rapidly changing industries. Part of the State University of New York, the college offers more than 45 majors leading to the AAS, BFA, BS, MA, MFA, and MPS degrees.