December 04, 2012
Over the past year, DSW, looking to nurture the next generation of accessories designers, sponsored a contest to design their dream shoe and boot; the top designs would find their way to store shelves.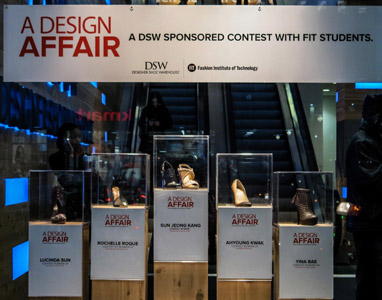 "We didn't specify the season," says Cynthia Watson, director of merchandise initiatives at DSW, who organized the contest under the guidance of Debbie Ferre, vice chair and chief merchandising officer. "We wanted to make sure the design was innovative but also commercially viable. We weren't trying to hit a price point, but we wanted to make sure they would sell."
About 30 of DSW's buyers narrowed the 45 entrants down to 15 and then five finalists, who presented their designs to a group of the company's executives in the spring. The winner, Sun Jeong Kang, Accessories Design '12, took home $1,500; her Wallis Sandal and Sandy Shootie will sell for $99.95 at the 34th Street location and on DSW's website beginning after the launch party on February 5.
Also, the Fashion Footwear Association of New York chipped in $10,000 to fly the five finalists to Ars Sutoria, the renowned footwear design school in Milan, for a 10-day intensive training.
Kang's designs use basic colors but incorporate a variety of materials and textures.
"The sculpted heel isn't your usual stiletto," says Vasilios Christofilakos, Textile/Surface Design '02, Fashion Design '84, chair of FIT's Accessories Design department, "and the trims flatter the woman's foot, making it fun and empowering at the same time."