Everything is in focus for Fashion Institute of Technology (FIT) Jewelry Design students Patricia Tovar and Sun Hyang Ha, winners of Silhouette Optical Ltd.'s first design contest at FIT. Tovar, from Astoria, Queens, and Ha, from Seoul, Korea, took top prizes in the competition by creating winning eyewear for two signature Silhouette brands: Silhouette Essentials and Silhouette & adidas, respectively. Neeranuj Wongawasin from Bangkok, Thailand, and Ha took second and third place in the Silhouette Essentials category. Barbara Bertieri from La-Spezia, Italy, and Kristen Harvey from Cedar Grove, NJ, were the second- and third-place winners in the Silhouette & adidas category. All five finalists received certificates for their participation and a cash prize.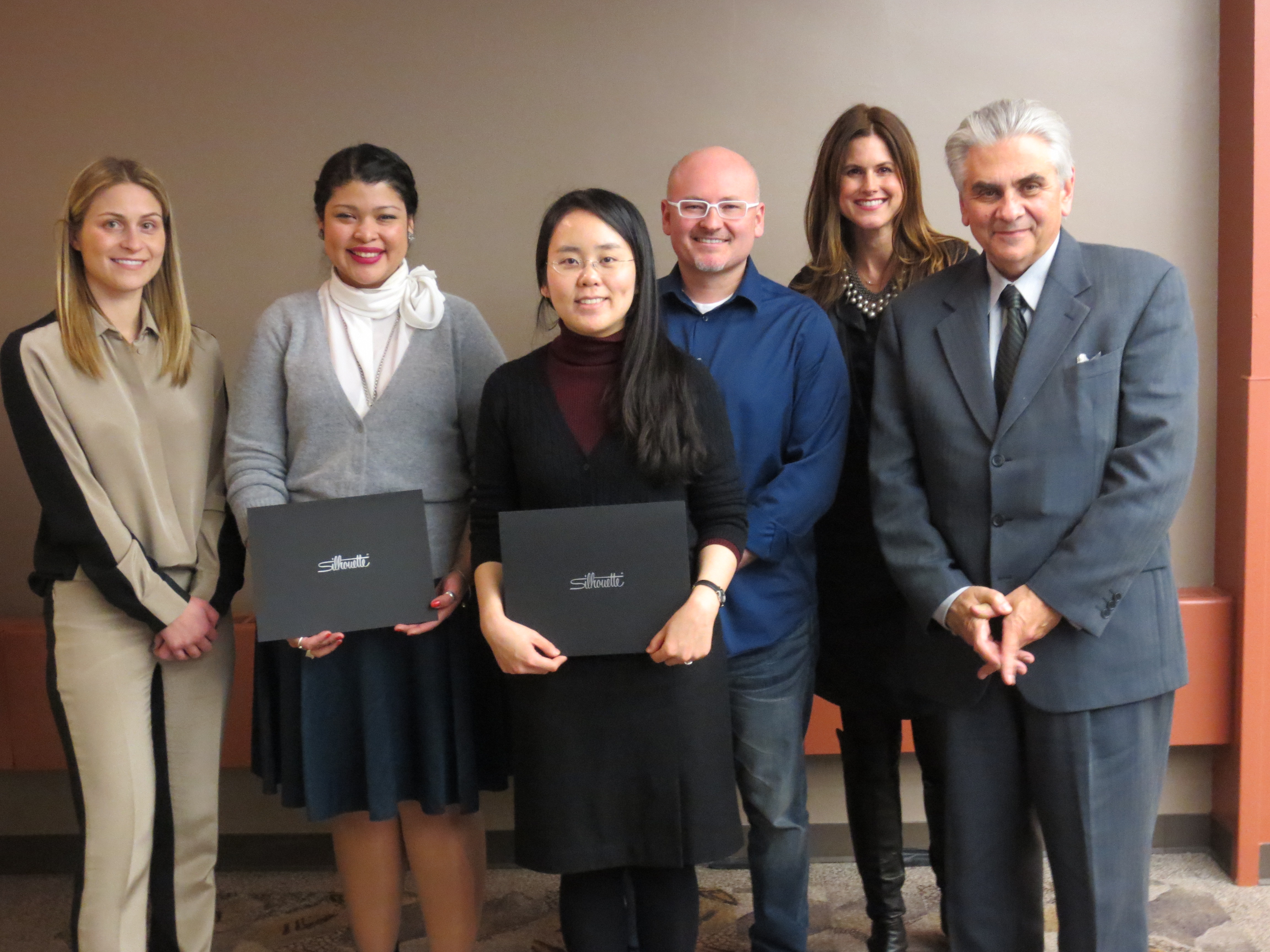 More than 30 student participants were challenged to research and develop eyewear designs that reflected either the Silhouette Essentials brand, which features Silhouettes core aesthetics of wearability, or Silhouette & adidas, the company's original and luxury designs. Tovar created the Cosmopolitan Cat Eye, a rimmed, cat-eye frame for Silhouette Essentials. For the Silhouette & adidas category, Ha constructed a sophisticated frame using the mixed metal mokume-gane.
The competitions judges included James Spina and Breanna Benz, editor-in-chief and assistant editor, respectively, of eyewear trade publication 20/20 magazine; Nora Milch, W magazine associate accessories editor; Heinz Pichler, adidas brand manager; and Kristen McLaughlin, marketing director, Silhouette Brand.
Tovar's cat-eye design exemplified Silhouettes focus on giving the wearer the best comfort and taking the wearing experience to the next level, said McLaughlin. This style is timeless and innovative, and certainly a futuristic dimension of Silhouettes essential style. Has frames, featuring a unique element that resembles wood grain, added a one-of-a-kind design element no two frames will be alike, McLaughlin said. The attention to Silhouettes foundation of lightweight, rimless design, combined with modern design accents makes this fit nicely within the Silhouette luxury world.
View their designs:
The Fashion Institute of Technology, a college of the State University of New York, has been a leader in career education in art, design, business, and technology for nearly 70 years. Providing students with a singular blend of hands-on, practical experience, classroom study, and a firm grounding in the liberal arts, FIT offers a wide range of outstanding programs that are affordable and relevant to today's rapidly changing industries. FIT draws on its New York City location to provide a vibrant, creative community in which to learn. The college offers more than 45 majors and grants AAS, BFA, BS, MA, MFA, and MPS degrees, preparing students for professional success and leadership in the global marketplace. Visit fitnyc.edu