April 23, 2012
Cheri Fein, executive director of Public and Media Relations
DAWN DEISLER AND VIRGINIA ARMSTRONG-WHYTE WIN AWARDS FOR PET APPAREL DESIGN AT FITS FOURTH ANNUAL PET APPAREL AND ACCESSORIES FASHION SHOW
Fashion designers Dawn Deisler and Virginia Armstrong-Whyte won the awards for pet apparel and accessories presented at the Fashion Institute of Technology's fourth annual pet fashion runway show, BARKinistas Unleashed, held April 18 at FIT in New York City.
Deisler won the Best of Fashion Show Award for an ensemble of a suede leash and matching suede and boa embossed leather patchwork coat and shared the Kmart Salable Style Award with Armstrong-Whyte, who created a two-piece white and gold wedding /special occasion dress. Deisler's ensemble was a python black and neon chartreuse lambskin carrying bag, leash, collar, and coat.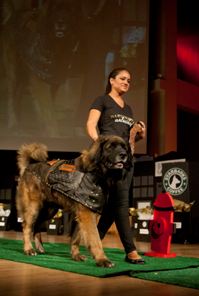 BEST OF FASHION SHOW AWARD
Designer: Dawn Deisler
Model: Chewee, a leonberger
Photo: Jennifer Weisbord
KMART SALABLE STYLE AWARD

Designer: Dawn Deisler
Model: Deisler's toy schnauzer, Chappy Fox
Photo:Smiljana Peros
Designer: Virginia Armstrong-Whyte
Model: Zoe, a miniature poodle
Photo:Karim Smith
The winners will be honored with a reception and display of their work at the new luxury D Pet Hotel opening in New York City in mid-June. They will also have the opportunity to be featured guests on the Connecticut TV show, Pet Talk, in mid-July.
A designer for Elie Tahari, Deisler has been associated with major fashion companies for the last 20 years. The lack of fashionable, rather than childlike, dog apparel led her to begin designing for her own dog. Her goal is to start a dog apparel and accessories line for the luxury market and donate the profits to animal shelters and animal cancer research organizations.
Armstrong-Whyte graduated from FIT with a degree in Fashion Design and had her own custom design evening and bridal wear business before she entered the pet apparel field.
Thirteen canines took to the dog walk to present 27 unique designs created by students in the FIT Center for Professional Studies Pet Product Design and Marketing professional development certificate program.
BARKinistas Unleashed was also a charitable endeavor, held in partnership with the New York City Mayors Alliance and Bideawee Animal Shelter, to benefit animals in need. As in previous years, the show was conceptualized, designed, and produced by FIT's Advertising and Marketing Communications BS programs fourth-year Special Events Marketing class.
Since the programs inception five years ago, a number of certificate holders have gone on to start their own pet product lines or enter the pet product world. Ada Nieves, one of the first recipients of the certificate and owner of Ada Nieves for Pets, commented, Obtaining a certificate from an institution such as FIT has given me a solid foundation as a pet stylist.
The Pet Product Design and Marketing professional development certificate program is noncredit and consists of eight courses including Who's Who In the Pet Products World, How to Get Your Pet Apparel and Product Concepts to Market, Fashion Design for Pet Apparel, Pet Accessories and Lifestyle Product Design, Quick Sketching for the Pet Product Business, Pet Accessory Design Studio, Patternmaking for Dog Garments, and Introduction to Pet Product Branding.
The Center for Professional Studies, a department in FIT's School of Continuing and Professional Studies, offers 12 professional development certificate programs and a wide array of other noncredit courses. These courses of study, providing comprehensive coverage of a particular career specialty or field, are geared toward industry-experienced individuals seeking career advancement or change.
Our mission with the Pet Products program is to open up opportunities for designers and merchandisers where their previous fashion-related education and career experiences can be applied to a new exciting field that is on the up-swing, said Joan Volpe, managing coordinator of the Center for Professional Studies. Owning pets is very much a part of today's lifestyle and has created a demand for a wide array of well executed products.
The Fashion Institute of Technology, a part of the State University of New York, has been a leader in career education in art, design, business, and technology for nearly 70 years. With a curriculum that provides a singular blend of hands-on, practical experience, classroom study, and a firm grounding in the liberal arts, FIT offers a wide range of outstanding programs that are affordable and relevant to today's rapidly changing industries. Internationally renowned, FIT draws on its New York City location to provide a vibrant, creative community in which to learn. The college offers more than 45 majors and grants AAS, BFA, BS, MA, MFA, and MPS degrees, preparing students for professional success and leadership in the global marketplace.