July 07, 2011
Dr. Giacomo (Jack) Oliva has been named vice president for Academic Affairs at the Fashion Institute of Technology (FIT). Dr. Oliva comes to FIT from the Hixson-Lied College of Fine and Performing Arts at the University of Nebraska-Lincoln, where he was dean and professor of music.
Dr. Oliva, who will report to FIT President Joyce F. Brown, will provide leadership and oversight for academic planning, program development, educational policy, program assessment, curriculum, academic standards, and accreditation, as well as faculty assessment, tenure, promotion, and faculty development. As a member of the Presidents Cabinet, he will ensure that curriculum and faculty competencies meet the goals of the colleges strategic plan, 2020: FIT at 75 Bringing the Future into Focus. Dr. Oliva also will work closely with the academic deans to provide a shared vision for the programs offered through the Schools of Art and Design, Business and Technology, Continuing and Professional Studies, Graduate Studies, and Liberal Arts. His duties also will include oversight of the Gladys Marcus Library, the Career and Internship Center, the Center for Excellence in Teaching, Grants, International Programs, the Presidential Scholars program, and the Office of Faculty Services.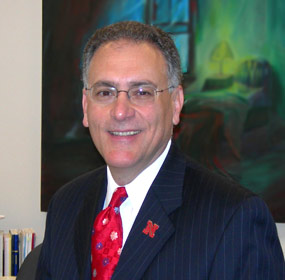 Dr. Oliva has a distinguished background as an academic administrator and professor. His leadership enabled the seven-year old Hixson-Lied College to forge its identity and direction, increase enrollment, develop new programs, raise funds, and expand faculty efforts to seek support for research and creative activities. His efforts assisted the college in becoming a presence in arts education in higher education. Previous positions he held include serving for nine years as director of the School of Music at the University of Florida and head of the Department of Music at Mississippi State University for seven years. In 2007, he was named National Administrator of the Year by the National Association of Educational Office Professionals.
A pianist, conductor, and accompanist, Dr. Oliva has frequently been the featured pianist in concerts devoted to American popular music and musical theater. He has performed for more than 35 years with chamber ensembles and was for several years musical director and accompanist for singer Connie Francis. He has also been a program reviewer and consultant for numerous university arts and performing arts programs.
Dr. Oliva serves as chair of the College Music Society's International Initiatives Committee and is a past president of the International Society for Music Education. He has just concluded a two-year term as president of the Lincoln Arts Council.
Dr. Oliva earned his EdD in Music Education at New York University and his MA in Applied Music at Montclair State University, from which he also received a BA cum laude in Music Education.