July 21, 2011
Current and future Fashion Design students from the Fashion Institute of Technology (FIT), competing against students from 12 of the nations leading design colleges and universities, won honors in each of four scholarship categories from the Council of Fashion Designers of America (CFDA).
Lauren Sehner received the Geoffrey Beene Design Scholar Award of $25,000. Kieran Baker and Lania Gonzalez won CFDA Scholarships of $10,000 and $5,000, respectively. Sydney Halela won Honorable Mention in the Liz Claiborne Fashion Scholarship competition. They recently completed their third year at FIT. The fifth winner was Amanda Guyran, who won the $25,000 Target Fashion Scholarship and will enter FIT in the fall. She attended FIT's precollege program in summer 2010.
For the Geoffrey Beene Design Scholar Award, Sehner, who is specializing in sportswear, submitted black and white sketches and a full-color illustration for a proposed women's collection, based on Beenes design aesthetic and use of geometric shapes.
A panel of industry experts, each with a close relationship to Mr. Beene, acted as judges. They included - Kim Hastreiter, editor, Paper magazine; Russell Nardozza, senior vice president and chief operating officer, Geoffrey Beene, Inc.; and designers/CFDA members Jeffrey Costello and Robert Tagliapietra, Costello Tagliapietra; Lyn Devon, and Anna Sui.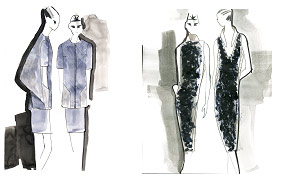 For the CFDA Scholarships presented to Baker and Gonzalez, students submitted a portfolio of original apparel designs for a women's collection. The selection committee included CFDA members John Anthony, Miranda Morrison, Sigerson Morrison; Jeff Halmos and Sam Shipley, Shipley & Halmos, Ron Anderson and David Rees, Ten Thousand Things; and Italo Zucchelli, men's creative director of Calvin Klein Collection,
The Liz Claiborne Fashion Scholarship was established by Claibornes husband and business partner, Art Ortenberg, to help identify a women's wear design student who best addresses the lifestyle and needs of today's woman. Halela submitted 10 to 15 full-color illustrated looks, based on Claibornes core design principles, that represent contemporary American sportswear.
The selection committee included industry experts Van Lupu, professor, Fashion Design, Pratt Institute; Andrew Rosen, president and chief operating officer, Theory; and designers/CFDA Members Victoria Bartlett, Dana Buchman, Sophie Buhai and Lisa Mayock, Vena Cava; Norma Kamali, and Kay Unger.
In 2007, the CFDA and Teen Vogue joined forces to create the CFDA/Teen Vogue Scholarship in partnership with Target. This program was established to identify high school students who demonstrate exceptional promise for a future in fashion design, and who intend to pursue a degree at one of the design schools participating in the CFDA's Educational Initiatives. The goal of this educational initiative is to help graduating students make informed decisions about their education and to help defray their tuition costs.
Target has made a commitment to donate $250,000 annually to help endow this program. To recognize Target's dedication to support emerging design talent, each year the top winner is awarded $25,000 and given the title Target Fashion Scholar. In addition, Target arranges for several supplemental learning opportunities on the Target Fashion Scholar's behalf. Gyuran won in 2010 and was flown to New York last October to attend Teen Vogue's FASHION U weekend.
The 2010-2011 CFDA/Teen Vogue Scholarship Selection Committee was comprised of representatives from CFDA, Teen Vogue and Target, as well as CFDA Members/designers Anna Sui and Jason Wu.
About the CFDA
The Council of Fashion Designers of America, Inc. (CFDA) is a not-for-profit trade association that leads industry-wide initiatives and whose membership consists of more than 370 of America's foremost women's wear, menswear, jewelry, and accessory designers. In addition to hosting the annual CFDA Fashion Awards, which recognize the top creative talent in the industry, the organization offers programs which support professional development and scholarships, including the CFDA/Vogue Fashion Fund, the Geoffrey Beene Design Scholarship Award, the Liz Claiborne Scholarship Award, and the CFDA/Teen Vogue Scholarship. Member support is provided through the Business Services Network, a high-profile group of companies offering designers strategic opportunities. Visit www.cfda.com.
About FIT
FIT's Fashion Design program was established in 1944, the year the college was founded. The associate degree program gives students an essential foundation for creating apparel from sketch to finished garment. In the baccalaureate program, students receive advanced instruction in specialized areas, including sportswear, knitwear, children's wear, intimate apparel, and special occasion. Fourth-year students work alongside acclaimed industry critics who serve as judges for a year-end, professionally produced fashion show, The Future of Fashion. FIT fashion design alumni include Reem Acra, Amsale Aberra,Brian Atwood, Jhane Barnes, John Bartlett, Dennis Basso, Stephen Burrows,Francisco Costa, Andrew Fezza, Norma Kamali, Calvin Klein, Nanette Lepore, Miranda Morrison, Rebecca Moses, Ralph Rucci, Austin Scarlett, Kari Sigerson, and Daniel Vosovic.