January 05, 2011
Cheri Fein, executive director, Public and Media Relations
212 217.4700 or press@fitnyc.edu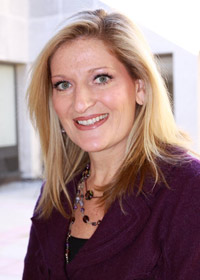 Dawn B Duncan has been appointed vice president for Development and Alumni Relations at the Fashion Institute of Technology (FIT). Ms. Duncan brings to FIT an established track record of achievement in higher education fundraising and donor relations for major universities. Most recently, she was vice president for Development and University Relations at Polytechnic Institute of New York University (NYU).
Working with FIT President Dr. Joyce F. Brown, the colleges Foundation board, and the Board of Trustees, Ms. Duncan will develop and execute a strategic long-term fundraising plan to reach FIT's philanthropic goals. She also will serve as executive director of The Educational Foundation for the Fashion Industries, the colleges advisory and fundraising body.
Ms. Duncan joined Polytechnic Institute of NYU (formerly Polytechnic University) in June 2007, where she served on the leadership team that negotiated the merger of Polytechnic University with NYU and supervised the portfolio of development and university relations initiatives, including a $75 million campaign. She also restructured the Development Office, with a focus on such areas as major gifts, alumni and donor events, digital communication, and the creation of presidential roundtables and lectures. Her efforts resulted in a 20 percent increase in giving in 2009.
From June 2004 to June 2007, Ms. Duncan was assistant dean for Development and Alumni Relations at NYUs Steinhardt School of Culture, Education, and Human Development. During her tenure, Ms. Duncan met or exceeded an annual major giving goal of $10 million. She oversaw a number of areas, including prospect tracking, the annual fund, major gifts, planned giving, and alumni outreach, and served as a member of the deans leadership team.
Ms. Duncan worked at the University of Florida Foundation, Inc., from October 1998 to May 2004, starting in the central office as campaign assistant and rising to regional director of Major Gifts before joining the University of Florida Foundation, Inc., Warrington College of Business, where she held the position of director of Development and Alumni Affairs from February 2002 to May 2004.
Ms. Duncan holds a Bachelor of Science degree in education from East Stroudsburg University in Pennsylvania and a Master of Science degree in education from the University of Tennessee.