February 28, 2011
Cheri Fein, executive director, Public and Media Relations
Katelyn Bischof, a 2010 FIT graduate in Fashion Design, was one of nine finalists in the Oscars Design Challenge, a competition in which emerging fashion designers vied to have their original design of a gown worn by a trophy model during the 83rd Academy Awards telecast. Bischof was chosen from more than 30 designers invited to submit sketches.

The finalists gowns were featured in a web video on the Academy Awards website, and the public was invited to vote online between February 15 and February 21. The name of the winner, Borris Powell, was announced during the Red Carpet segment of the broadcast on ABC television on Sunday, February 27.

Contest coordinator Toni Pickett asked Bischof to compete after she saw her work in FIT's annual BFA Fashion Show in May 2010. Bischofs cranberry-colored cocktail dress received the Critics Award in the Special Occasion category.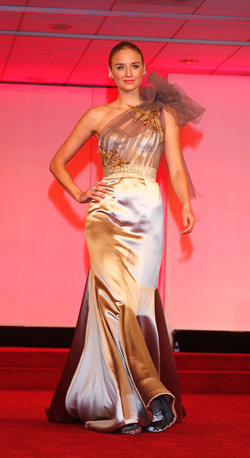 For the Oscars, Bischof designed a one-shoulder silver satin gown decorated with gold embroidered flower leaves, Swarovski crystal beading, and tulle that ties in a bow at the shoulder. I looked at old 50's Hollywood glamour, Bischof said. I wanted something that would look good on stage.

Bischoff hopes to start her own design company in Manhattan. I think this opens a lot of doors and really gets my name out there, she said. For those who don't have the ability to contact celebrities, this can help springboard them to the next level. One of last years finalists went on to design the dress Sandra Bullock wore to the 2010 MTV Movie Awards.