November 18, 2010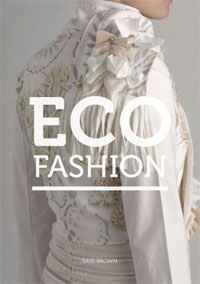 Until recently, fashionistas on the prowl for Earth-friendly garb had limited options.
"The only place you could buy hemp clothing was in a head shop, where they sell bongs," explains eco-pundit Sass Brown, assistant professor of Fashion Design and resident director of the study abroad program in Florence (Polimoda). "It was like, Do I smoke this or wear it?"
The sustainable apparel movement is still trying to outlive its crunchy reputation, while playing catch-up to other creative fields.
"Fashion is quite late to the party. It lags behind architecture, fragrance, interior decoration, and many other disciplines in which companies have embraced sustainable business models. Designers have just started to understand the significant impact they can have on the planet's ecology."
Luckily, the industry has come a long way in the last few years, with chic labels like Ciel, Noir, Cline Faizant, and Linda Loudermilk now tailoring hemp and banana fibers into refined garments that rival the sophistication and innovation of anything trotted out at fashion week. Brown spotlights such environmentally (and sartorially) savvy lines in her new book, Eco Fashion, featuring talents from across the globe.
"I finally felt that there was enough groundbreaking work worth promoting," Brown says of her impetus to write the book. The turning point? "Rather than activists and NGOs creating clothes out of organic fabrics, aesthetes finally started embracing ecological production" from sourcing sustainable textiles to partnering with fair-trade cooperatives.
The latter is something Brown understands first-hand. For five years during teaching breaks, she labored in women's co-ops throughout Latin America. "I discovered that indigenous communities are the high-end designer's last source for handcraftsmanship," she says. "Family-owned businesses are Europe are dying out, the U.S. no longer has a textile production industry, and home economics has disappeared from curriculums. Even your average fashion student can't knit or crochet! The developing world is the end of the line."
And the beginning of a more conscientious and better-dressed future.