March 26, 2010
Loretta Lawrence Keane, Vice President for Advancement and External Relations
Cheri Fein, Executive Director of Public and Media Relations, 212 217.4700 or press@fitnyc.edu
THE FUTURE OF FASHION
2010 Graduates Collection
Monday, April 26
Renowned hairstylist Laurent Dufourg and internationally known makeup artist Sue Devitt have signed on to contribute services and products to the Fashion Institute of Technology's annual professionally produced runway show, at which top graduating design students showcase an array of fashion-forward garments. The Future of Fashion will be revealed on Monday, April 26, 2010, at two shows, one at 4:30 pm and the second at 7:30 pm. A VIP reception will take place between shows.
Dufourg will provide more than a dozen stylists, along with Priv products, to shape hairstyles for the models who will walk the runway. Devitt will send more than a dozen makeup artists, along with her products, to do the models makeup. Both are contributing products for the audience gift bags.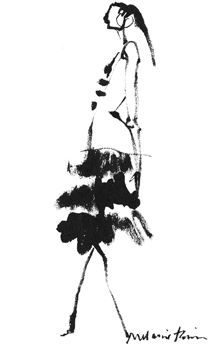 The Future of Fashion will present sportswear, special occasion, knitwear, intimate apparel, menswear, and children's wear designed for fall 2010. An interactive site for the event can be found at www.fitnyc.edu/futureoffashion.
Hairstylist Laurent Dufourg is an entrepreneur in the beauty industry whose businesses include Priv Salons (located in New York, Los Angeles, Miami, Orlando, and coming soon, Malibu), ONA day spa, and Priv Products. Over the past 25 years, the French native, known for working fast with incredible hands, has garnered an impressive list of celebrity clients, including Gwyneth Paltrow, Salma Hayek, Sharon Stone, Sophia Loren, and Uma Thurman, among others. Dufourg launched the Priv Formule Aux Herbes hair care collection in 2001. In 2009, he added Concept Vert, an eco-friendly, organic haircare line and Environmentally Preferable Product.
Makeup artist and skin product formulator Sue Devitt combines anti-aging ingredients, soothing marine properties, and hydrating flower derivatives from nature in her products. Devitt has done the makeup for Versace, Dolce & Gabbana, and Valentino runway shows. She also works with A-list clients for red carpet events, including the Academy Awards, the Golden Globes, and the Cannes Film Festival. The Sue Devitt Beauty Collection is found at fine retailers such as Barneys New York.
Media interested in attending The Future of Fashion should contact futureoffashion@fitnyc.edu.
FIT, a college of art and design, business and technology of the State University of New York (SUNY), offers 44 majors leading to the AAS, BFA, BS, MA, and MPS degrees. FIT fashion design alumni include Calvin Klein, Norma Kamali, Francisco Costa, Ralph Rucci, Stephen Burrows, Amsale Aberra, John Bartlett, and Nanette Lepore.