March 31, 2010
Loretta Lawrence Keane, Vice President for Advancement and External Relations
Cheri Fein, Executive Director of Public and Media Relations, 212 217.4700 or press@fitnyc.edu
Last Bark for Bryant Park
Monday, April 12, 5-6:30 PM
Hopefully there will be more cheers from the audience than howls from the runway when dogs take to the catwalk in fashion designs created by students from the Fashion Institute of Technology's (FIT) Pet Product Design and Marketing professional development certificate program. Last Bark for Bryant Park, FIT's second annual pet apparel fashion show named in homage to the final New York Fashion Week located in Bryant Park will take place on Monday, April 12, from 5 pm to 6:30 pm in FIT's John E. Reeves Great Hall, Pomerantz Art and Design Center, Seventh Avenue at 27th Street, New York City.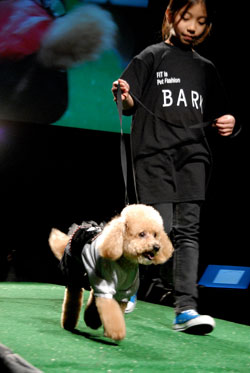 Last Bark for Bryant Park is free and open to the public, but tickets are required. They will be available on a first-come, first-served basis from March 25 to April 8 at FIT in Room D130 on the northwest corner of Seventh Avenue and 27th Street, Pomerantz Art and Design Center, between 9 am and 5:30 pm. Non-participating dogs will not be admitted to the show, and flash photography will be prohibited.
Two of the 14 dogs modeling one-of-a-kind outfits will be shelter animals provided by the North Shore Animal League America. Pet accessories and pet lifestyle products will be on display at the show. Canines and humans will receive doggy bags filled with suitable treats.
Mario DiFante, executive director of Pet Fashion Week New York, will be present to select student-designed items to tour and be on display for a year at various Pet Fashion Week events taking place nationally and internationally.
Last Bark for Bryant Park is being produced by FIT undergraduate students majoring in Advertising and Marketing Communications (AMC), as part of their curriculum for a class in Special Events Marketing Public Relations. Linda Finnerty, assistant professor, said, Last years first pet fashion show was a huge success, and this years is promising to be even better. Students have created a presence on Facebook at http://www.facebook.com/pages/Bryant-Bark/363472141787?ref=ts and Twitter at http://twitter.com/bryantbark. Fans will see daily updates of news in the pet apparel industry, amusing videos, and photos of the dogs who will model the fashions. Joan Volpe, managing coordinator, FIT's Center for Professional Studies, said, The fashion industry is constantly evolving, and pet apparel and related products represent a close to $50 billion industry that is proving to be comparatively recession-proof. This niche market requires talent, know-how, and skills commonly found in traditional fashion business segments. Our program provides training for designers wishing to enter this market.
The Pet Product Design and Marketing Professional Development certificate program is offered by FIT's Center for Professional Studies. The noncredit program consists of six courses: How to Get Your Pet Apparel and Product Concepts to Market, Fashion Design for Pet Apparel, Pet Accessories and Lifestyle Product Design, Quick Sketching for the Pet Product Business, Pet Accessory Design Studio, and Introduction to Pet Product Branding. Students receive a Pet Product Design and Marketing certificate upon completion of the program.
The Center for Professional Studies, a department in FIT's School of Continuing and Professional Studies, offers nine different professional certificate programs and a wide array of noncredit courses. These abbreviated courses of study provide comprehensive coverage of a particular career specialty or field, are geared toward industry-experienced individuals seeking career advancement or new possibilities.
The Fashion Institute of Technology is a selective college of art and design, business and technology of the State University of New York, with 44 majors leading to the AAS, BFA, BS, MA, and MPS degrees.